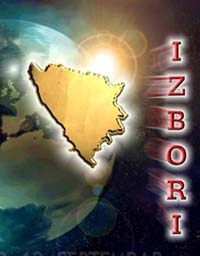 The first batch of elections results for municipal mayors was been published by the Bosnian Central Election Commission shortly after midnight today. Results for municipal assemblies, as well as more detailed results for the mayoral polls, are expected later today and in the coming days.
The Bosnian Central Election Commission expressed satisfaction that the Bosnian local election appeared to have passed without major incidents. Polling stations opened at 0700 CEST (0500 GMT) and closed at 1900 CEST (1700 GMT) on Sunday.
"We are satisfied having in mind that so far there were no major incidents.We also have to be satisfied with the turnout so far," Suad Arnautovic, the Bosnian Central Election Commission's President, told a press conference.
More than three million Bosnian citizens were registered to vote for city councils and mayors throughout Bosnia. The overall turnout was 44.54 percent by 1400 GMT, roughly the same as the 45 percent turnout in the 2004 local elections.
Four Sarajevo municipalities, as well as Banja Luka, Tuzla and Zenica, registered an extremely low turnout which in some places was even under 40 percent, while in some smaller towns like Banovici and Bosanski Petrovac turnout exceeded 74 percent.
The first set of results reaffirmed that the strongest Bosnian political party remains the Party of Democratic Action, SDA.Results also indicated that the main opposition the Bosnian Social Democratic Party, SDP, maintained a rather strong position, especially in urban areas, including at least two out of four Sarajevo municipalities.
Leader of the genocidal Serbian fascist creature in Bosnia "RS" Milorad Dodik's SNSD won the majority of votes of the Serbians living in Bosnia.The HDZ and splinter group HDZ 1990 won the majority of votes of the Croatians living in Bosnia.
However Results are still unknown for 25 out of 149 municipalities, including several key municipalities and towns, such as Srebrenica, Tuzla and Banja Luka.