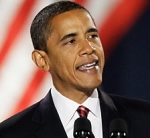 Obama, US President – elect
November 8, 2008
Dear imam Bayram,
Thank you for congradulating me, and for your kind words and support. I'm receiving thousands of messages right now from across the country and Americans around the world. I am honored and deeply humbled by the confidence the American people have placed in me and Vice President-elect Joe Biden.
I am hopeful about the opportunities and clear-eyed about the challenges our nation faces. I look forward to working with all Americans, regardless of who they voted for, in the great project of American renewal. Enlisting the energy and ingenuity of the American people is the only way we will create the changes that so many people want to see, so Senator Biden and I hope you will remain active in your community and involved in national policy debates.
Sincerely,
Barack Obama
Congradulation letter to the president-elect from imam Bayram Mulic
Islamic Association of Bosniaks in North America
November 6, 2008
Senator Barack Hussein Obama
President-Elect of the United States of America
Dear Mr. President-Elect: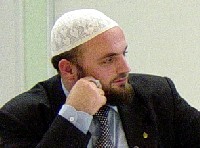 Imam Mulic
It is my pleasure on behalf of the Bosniak congregations in North America, to congratulate you on your historic election victory for the presidency of the United States of America.
I believe and I am convinced that your presidency will mark a new beginning for every one of us in the United States as well as for all the peace-loving nations and peoples of the world. We live in a very challenging time, therefore, your message of hope and change has been taken with respect and admiration throughout the world. Believing strongly that change happens from the bottom-up, we have been supporting "Bosnian Americans for Obama", one of our grassroots groups, to help You and senator Joe Biden, our proven friend of Bosnia to get elected to the Oval office. We are looking towards continuing our work together from the grassroots to bring the change and make the brighter future for our children. Together we will succeed, and together we will change America.
With best wishes for the success in your Presidency,
Sincerely,
Imam Bayram Mulic,
President