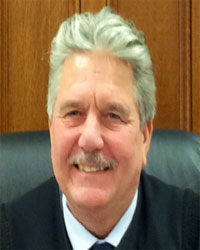 We invite all friends of Bosnia, Sandzak, Albania, Kosovo, Bosniaks and Albanians to vote Frank LaBuda
Sullivan County Court and Surrogate Judge Frank LaBuda is going to seek re-election this November and he will formally make the announcement on Friday, April 1 in the lobby of the County Government Center in Monticello.
LaBuda has been a county court judge since 1997. He has also been appointed by the chief judge of New York to the county Drug Court, which provides diversion programs to defendants with substance abuse issues, and VetTrack, which addresses the issues of defendants who are veterans.
Prior to being elected to the bench, he spent over 20 years in private and public practice, including 10 years as a prosecutor, where he served as chief assistant Sullivan County District Attorney.
LaBuda served as a captain in the US Army from 1975 to 1978 and then voluntarily returned to active duty during the 1990-91 Persian Gulf War, where he served as an Army major in Operation Desert Storm, engaged in field operations and logistics in Kuwait and Saudi Arabia. (midhudsonnews.com)