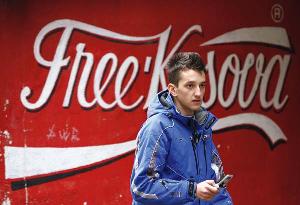 "What comes after December 10, 2007?" was a big question for the European Union diplomats who have been working with their American and Russian counterparts for the past two years on trying to reconcile the differences between the Serbian government and Kosovo Albanians demanding independence. After two years of negotiations, nothing has been achieved: the Serbs still insist on keeping Kosovo with its 2m of mostly ethnic Albanians as part of their state whereas Kosovars envision a free and independent Kosovo Republic.
Agim Ceku, the prime minister of Kosovo claims that independent Kosovo would benefit the region politically, economically and in terms of security. On the other hand, Serbian prime minister, Vojislav Kostunica, has stated that any declaration of independence would spark a crisis and would force Serbia to defend its sovereignty. Russia, long-time ally of the Serbs forced the UN Security Council to give up on any kind of solution and to give it back to the EU and NATO to try to broker a deal and prevent an outbreak of violence.
Declaration of independence seems imminent at this point and it will happen early next year. Serbian armed response does too. There are also more subtle ways to start a conflict: Kosovars might end up without water and electricity the very moment they declare their independence. The Gazivoda reservoir that supplies 60% of Kosovo's water is located in the north of the province which is heavily populated with the Serbs. With instructions from Belgrade, the water supply might be cut off in matter of minutes leaving Kosovars not only without water but also without electricity: the reservoir water provides power to the Kosovo B power station located 30 miles south-east of Gazivoda which produces two thirds of all Kosovo's electricity.
The question remains: what good is an independence if it's not sustainable?
How prepared are the Americans and some Europeans to support Kosovo's independence?
Only time will tell. The question will have to be revised to say "What comes after Kosovo's declaration of independence (if it ever happens)?"