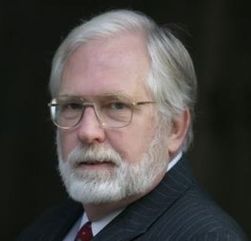 As his cross-examination continues Prosecution witness Robert Donia says the Serb Democratic Party, SDS, led by Radovan Karadzic, was a paramilitary organization.
On the eighth day of his testimony at the trial of Radovan Karadzic, American historian Robert Donia said the Serb Democratic Party, SDS, worked on arming its local and regional boards and taking over authority at the local level by declaring Serb municipalities as of May 1991.
"I think the SDS armed its people and was inherently becoming a paramilitary group. It was also involved in other actions with the aim of ensuring its cooperation with and support of the Yugoslav National Army, JNA, in taking over the territories it planned on conquering beyond the autumn of 1991," Donia said.
Karadzic, founder and former President of the SDS and Commander of the Republika Srpska armed forces, is on trial before the International Criminal Tribunal for the former Yugoslavia, ICTY, for genocide, crimes against humanity and violation of the laws and customs of war.
Among other things, the indictment alleges that Karadzic was part of a joint criminal enterprise, together with other SDS members, members of Bosnian Serb state bodies and JNA members, which had the aim of removing Bosnian Muslims and Croats from territories claimed by Bosnian Serbs.
Karadzic said the establishment of Serb municipalities on the territories of existing municipalities in Bosnia and Herzegovina was done in collaboration with all ethnic groups, adding that both Muslim and Croat municipalities were formed in parallel with the Serb ones. The witness denied this.
"The divisions were made under threat with guns as a preparation for ethnic cleansing. The agreements were signed with the help of the JNA and paramilitary forces. Those agreements were made while revolvers were turned on the other parties. The events that happened later proved this," Donia said.
The witness said the establishment of Serb municipalities could be interpreted as an "offensive action", bearing in mind that in this way SDS members took control of raw materials, goods, police and other functions previously held by the existing municipal bodies.
Karadzic said that one of the reasons for the establishment of Serb municipalities in Bosnia and Herzegovina was the foundation and functioning of the Patriotic League and the Party of Democratic Action, SDA, prior to March 1991.
"While we were involved in political moves, they dealt with military preparations," Karadzic said.
Donia responded by saying he did not think the Patriotic League was a significant military force until the beginning of 1992.
Although Donia's cross-examination was due to be completed at this hearing, the Trial Chamber accepted Karadzic's request to let him have an additional three hours for his examination. The examination will continue on Thursday, June 10.