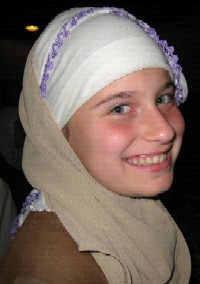 Nizama Djuderija
Topic: Allah
I have one name and it is Nizama but, Allah has 99 names that's cause
he's extremely special. Every language has one or more terms about Allah
and other things! He also has a personal name that is One true god!
*I think that this is very understanding cause he is very important or
number one, in people's lives and we should represent that in one way by
giving him very special names cause he is everything.
Topic: About Allah
People who aren't Muslim and think differently think that Allah is
unloving and mean also, they think he's cruel. That is wrong cause it states in every 114 chapters of the Quran begins with the verse, "In the name of God, the merciful the compassionate." In one of the sayings Prophet Muhammed Alejhisselam were told that God is more loving and kinder than a mother to a child. I think Allah will never be cruel and whoever says that is very wrong
cause Muslims will never say such rood things but we just respect them.
Topic: About Allah
When Allah created us, he didn't care what race or whether power or
wealth cause he says everybody's equal. One of the things that Allah conceited on the seventh day of making mankind is he had a wrestling fight with one of his soldiers cause that soldier said that God hates mankind and that any person is just nothing. I think this is very understanding cause a lot of people underestimate Allah for no reason, also he has a lot of dignity so nothing can stop him. But what people underestimate about him they will pay for that one
day.
Topic: Adem a.s.
Allah made all the lands, flowers and animals and the sun and moon for
many reasons to help us. Allah wants to make the first man on earth and this us what he said:" This man would own all the tress, the sun and moon, everything!" Cause he is special to Allah cause he is the first man on earth. I can understand cause this man is first, and he starts centuries and
centuries out.
Topic: Adem a.s.
Allah made him on Heaven and his name that meant everything. Adem.
Allah also provided a prayer mat for Adem to pray on.
The devil thought Adem sucks and that he was horrible and he was made of
fire but Adem really made of land. I think the devil is jealous of Adem cause he gets attention from Allah from Allah, but Adem will do good things so that's why he should get it.
Topic: Adem a.s.
Allah told him that they can eat the heaven food he gives but absolutely
not the tree cause you'll fall into some trouble. Allah also told Adem, cause Allah later gave him a beautiful woman named Hava and he said the devil is not a very good friend with Hava, so the devil can trick you people to eat something out of the tree and end Heaven! I think Adem and Hava are being so confused cause they want to eat the fruit so bad, but Allah is being like a father and telling them the right thing to do. Eventually, Adam ate the apple and that's how the world started.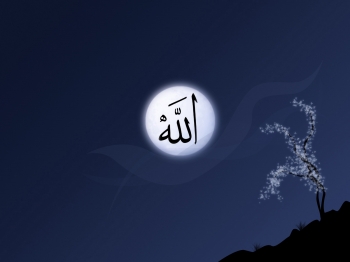 Topic: Nuh a.s.
After Adem, people knew Nuh a.s. the basic in life. And Allah was very
nice, he forgave everybody's dont's. But what he won't forgive is when people believed in idols, especially statues. When people died, people who believed in statues, they couldn't forget them dying so they cryed all the time and the devil said that this is exactly what he wanted cause all they would do the whole day was just look at their statues and forget about Allah.
Topic: Nuh a.s.
One day, Allah decided he needed another poslanik in the world so he
chose Nuh or in English Noah to be poslanik and tells the people what's
wrong from right. So, one day, Nuh went out and said: "People you are certainly on the wrong way of living! And you guys should stop believing in idols!" People were confused. They have never heard of anything like that. Nuh was happy that some people listened but most people didn't. Allah told Nuh to make a ship to save you and other people who believed you and save all your family and one pair of each animal. He told everybody that if you believe that Allah's real, you could get on the boat cause Allah will forgive. Nun told his son: "do you want to get on the boat?" If you believe in Allah this will happen. But his son wasn't a believer so he did not go on the boat. So Allah promised! He stopped the water, rain, and brought out the sun! So the village was so happy and they made houses and families!
Topic: Ibrahim a.s.
Ibrahim had a leader named Nemrud and he only thought about himself and people in the town forgot about Allah. They believed in stars and
statues. When Ibrahim was little, his dad told him to go to the beach and sell the statues he made. We'll, Ibrahim listened to his dad and sold them. But he
always wondered why his dad was always making these not alive things and
people believed in that? Ibrahim never sold the statues cause while he sold them, he said things that made people mad about what he said about the statues. One night, Ibrahim started thinking: Who made me, the sun, the moon, and nature? Then, he said only Allah can own the moon, the stars and everything!!! So he started believing in Allah. Ibrahim started praying and thanking Allah for everything, so Allah took him as poslanikJ . Ibrahim stayed home and faked that he was sick cause the whole town was having a parade for the statues. So, later Ibrahim took an axe and chopped down all the statues and only left the biggest one and hung the axe on the statue's neck.
When everybody came back, they were astonished at what happened and they
knew right away that it was Ibrahim cause he was Muslim and they asked
him did he do it and Ibrahim said ask your statue what happened!
Nemrud wanted to speak with Ibrahim but he told him was about how he
believed in Allah and Nemrud didn't like that so he sended him to die in
the fire and all Ibrahim thinked was Allah please make this water cold so
when he fell in, it was cold! Ibrahim and his new wife Sara and his little brother moved to another town cause they couldn't take it there and Sara and Ibrahim prayed for a child, but they never got a child so Sara and Ibrahim agreed for Sara to get married to a nice man and later they had a beautiful son named
Ismail! Ibrahim had a dream 3 nights in a row that he was killing Ismail for
Kurban. So, he told Ismail about it and Ismail said anything for Allah.
And right when Ibrahim was about to do it, Allah said stop! This was a test and you passed you 2 are very good men! So, from now on people do Kurban on sheep!
Topic: Yunuz a.s.
Nejneva was the main city in Asrija and everybodyonly thought of how rich they were and they completely forgot about Allah and their hearts were practically made of stone. They only thought about doing bad things and in between them was a man called Yunuz. Allah accepted him to be his poslanik at age 30. The town only believed in statues and Yunuz always told them about how Allah is so special and how they should believe in Allah. But, only few listened and were amazed. For a long time, people did not believe Yunuz, and he was thinking of leaving, when Allah told him just be patient a little and the people will listen. But Yunuz did not agree… So one day, Yunuz told the whole town that he was leaving and he also yelled: Your skin will be weird colors the air will be hard to breath and the day will be dark!!! And truly that happened to the people and they prayed to the statues butnothing helped. So, they realized that Yunuz was right! But he wasn't there. So they prayed and eventually it went away. Well, Yunuz went on a ship and everything was fine until, the storm started and the ship was about to sink so the captain said one person is troubled well have to put up sticks and who has the tallest one is that person. But Yunuz already said it was he, but the captain said were not for sure so they tried 2 more times but it was Yunuz. So they pushed him off the deck but Yunuz said Bismillah… So, Yunuz swam and swam, waiting for Allah's punishment so, a big whale came and swallowed Yunuz, not bite, but swallow. He stayed in there for a couple of days and finally the whale carefully set Yunuz on land and all of a sudden, the whole town came running to him saying how they believe him know and tears started rolling down his cheeks!
Topic: Isa a.s.
Allah made Isa without a dad his mom was named Merijem and she was lonely and Allah just made her become pregnant but Allah told her not to tell anybody and her parents were confused why. When Isa was born he started talking, that's the magic of Allah. He said: I am Allah's poslanik! And how he believes in Allah. The weird people thought he was crazy so Merijem moved to Egypt and as Isa was growing up, Allah gave him special talents, like he knows what his friends mom was cooking, he also knew where people's valuable stuff stayed.
When, he turned 13 he did good things and stayed out of trouble. Well, when he turned 30 Allah took him as a big part a poslanik to do his job so he sended him to Israel cause the people there didn't believe in Allah. He told them about his magic and they asked show me some so he swiped his hand and a bird appeared !J So Isa said he could also make a blind person see so he brang a blind person and then he put his hand over the blind persons face and he said a prayer and the man could see! He said Isa is right! You guys should believe in Allah! Then, Isa said I could also make dead people alive! So, they went to the graveyard and Isa said a prayer and this man came out and they were freaked out! The other day, Isa asked the people that believed him that if they could help him make more people believe him.
The people couldn't understand why Isa was telling them about Allah and it bothered them so they went to court to work it out and the rood people lied and cried and said that Isa was rood so they were gonna kill him on the cross. There was this man named Juda started this and Isa and his mates stayed in a basement and when Juda knocked on the door they couldn't catch them. But Allah sended Gebrail to put Isa on a cloud and he flew away and then Allah made Juda look like Isa so he got killed on the cross!
That`s why it`s not good to lie!!!!