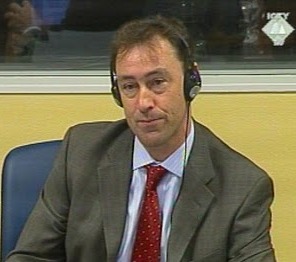 Answering Radovan Karadzic's questions during cross-examination, David Harland says he witnessed "a wide-scale forcible expatriation of non-Serbs" from Bosnia and Herzegovina between 1993 and 1995.
"I certainly witnessed many cases of mass resettlement of the population when I visited the Drina valley or the Prijedor area. I saw areas in which a hundred houses were burnt down and only one house was not destroyed. On that house there was a sign saying 'Serbian house'. This was proof that a great number of non-Serbs had been forced to leave. I was a witness of forcible exodus of the population," the witness said.
Harland, a former Civil Affairs Officer with the UNPROFOR Command in Bosnia and Herzegovina, began his testimony on May 6 this year, when he spoke about the suffering of civilians in Sarajevo.
Karadzic, former President of Republika Srpska, is on trial before the International Criminal Tribunal for the former Yugoslavia, ICTY, for genocide committed in the protected enclave of Srebrenica and seven other Bosnian municipalities, as well as crimes against humanity, persecution and the shelling and sniper campaign in Sarajevo.
During cross-examination Karadzic presented the witness with a map of Sarajevo, asking him whether "the Serb parts" of the city were "in an inferior position in comparison to the ground levels held by Muslims". The witness answered affirmatively.
"However, if the point is to generate a general impression that Serb communities were tactically inferior or more exposed, I think that would actually be an inversion of reality, because, in reality hundreds of thousands of people lived in the city valley and were exposed to Serb fire," the witness said.
Harland said he knew that "Bosnian Muslims' forces opened sniper fire against civilians in Grbavica" in 1994 and that many Serb civilians were detained in the "Silos" detention camp in Tarcin.
When asked by the indictee if Serb civilians were "held hostage, against their will", in Sarajevo and Tuzla, Harland said he did not consider this allegation to be true.
"Many of them wanted to leave, but I also think that many Bosniaks wanted to leave. On the basis of my observation, I did not have an impression that they were held hostage, as you are saying, on the basis of their ethnic affiliation only. When I think about it, there may have been such cases, but the situation was not like that in general," the witness said.
The cross-examination of Harland is due to continue on Monday, May 10.
Spreading Terror
06 May 2010.: David Harland, a former member of UNPROFOR Command in Bosnia and Herzegovina, says that Bosnian Serb forces conducted "targeted attacks on Sarajevo" in order to spread terror among civilians.
Testifying for the Hague Prosecution at the trial of Radovan Karadzic, Harland said Bosnian Serb forces bombarded Sarajevo in three ways from 1992 to 1995 – by shooting tactical targets, retaliating for attacks conducted by Bosnian forces and "spreading terror in the background, which included shelling and sniper fire with no identified tactical reason".
"We considered the actions to have been controlled from one place, because sniper fire and shelling would increase in times of limited movement of humanitarian convoys and electricity and water restrictions. (…) When a threat from an intervention against Serbs existed the pressure would be relaxed until the threat was no longer there. When there was a slight threat, they would deploy terror tactics against civilians," Harland said.
Karadzic, former Supreme Commander of the Republika Srpska armed forces, objected to Harland's testimony, saying the witness spoke about "emotions" and he had already "given judgment as he spoke about terror".
The Hague Prosecution charges Karadzic with genocide committed in Srebrenica and seven other Bosnian municipalities, as well as crimes against humanity, violation of the laws and customs of war and a sniper and shelling campaign targeted against the civilian population of Sarajevo.
Harland said that, in the period between 1993 and 1995, when he was a civil affairs officer with the UNPROFOR Command in Bosnia and Herzegovina, he had meetings with Karadzic and "deprecated the shelling of Sarajevo", but, as the witness said, this did not have much effect.
"Karadzic would usually deny that the problem existed or say he would check what was going on or say he had already issued orders to stop the actions targeted at the city," he said.
Harland spoke about the shelling of Markale market place in Sarajevo on February 5, 1994, when 67 people were killed, and August 28, 1995, when 37 people were killed, saying that UNPROFOR did not have any doubt that the projectiles had been fired from positions controlled by Bosnian Serbs.
"At that time we said we did not know who had fired the projectiles, because we did not want to reveal that UNPROFOR was getting ready to start major attacks against Bosnian Serb forces. I think this contributed to the myth about who had fired the mine-thrower grenade," the witness said.
At this hearing Karadzic completed his cross-examination of witness Fatima Zaimovic, a former Chief Nurse at the Pediatric Surgery Department of Kosevo Hospital in Sarajevo, who began her testimony on May 5 this year.
During cross-examination Karadzic asked the witness if she knew that "tanks that belonged to the Army of Bosnia and Herzegovina actively operated" from positions in front of Kosevo Hospital, but the witness denied this.
"Mr. Karadzic, I do not know anything about it. I am not familiar with the subject at all. I wish you asked me about children, wounded children, sorrow or the eyes of a mother losing her child. (…) I did not see any tanks in front of the hospital. I doubt there were any tanks there. However, tanks were situated up there on the hills. You were shooting at all of us and you know it very well," Zaimovic said.
Karadzic will cross-examine witness Harland on Friday, May 7 this year.