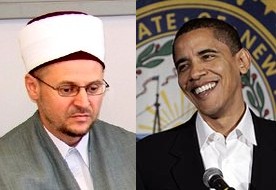 Dr. Agic: I urge you to remember and stay true to your message regarding the importance of tolerance and diplomacy, and reaching across the "political aisle" and listen to what those who disagree may have to say
November 10, 2008
Senator Barack Obama
President-Elect of the United States of America
Dear Mr. President-Elect,
I want to take this opportunity to congratulate you on behalf of the Islamic Association of Bosniaks in North America ("IABNA") on your election as the 44th President of the United States of America. Over the past 21 months your campaign remained inspirational to millions of people, including Bosnian-Americans living in the United States, and your victory on election night was historic.
Your election marks not only a new direction for American politics, but also signals a new beginning for the entire world. I urge you to remember and stay true to your message regarding the importance of tolerance and diplomacy, and reaching across the "political aisle" and listen to what those who disagree may have to say. Your campaign's message of change, hope and unity was refreshing to hear and has re-established global respect and support for the United States.
Once gain, on behalf of the IABNA – congratulations on your historic win.
Kind regards,
Dr. Senad ef. Agic
Head Imam of the Islamic Association of Bosniaks in North America
Imam of the Islamic Cultural Center of Greater Chicago