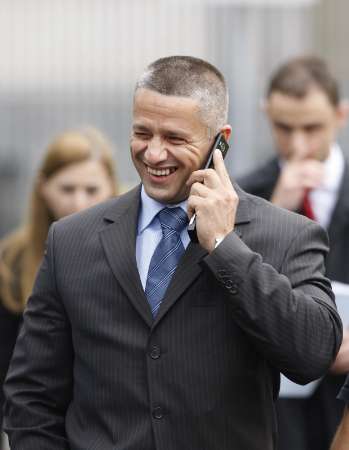 The U.N. war crimes tribunal in The Hague on Thursday overturned the conviction of a Bosnian Muslim wartime commander for failing to stop the murder of Serbs near the enclave of Srebrenica early in the 1992-95 conflict.
The court found the case had not been proven against Naser Oric, a hero for many Bosnian Muslims for leading the defence of the town which was later overrun by Bosnian Serbs who killed 8,000 people.
Oric had been originally handed a two-year prison sentence in 2006, but was immediately released since he had been in custody since 2003.
"I am happy, of course," he said after the verdict was announced. "I've never believed that Muslims committed crimes in Srebrenica. People under total siege were fighting only to survive."
The killing in July 1995 of some 8,000 Muslim men and boys by Bosnian Serb forces in the eastern town was Europe's worst atrocity since World War Two. Serbs say 3,263 of their own people had earlier been killed by forces under Oric's command.
The tribunal's appeals chamber said it had no doubt grave crimes were committed against Serbs in two detention facilities in Srebrenica between September 1992 and March 1993.
"However, proof that crimes have occurred is not sufficient to sustain a conviction of an individual for these crimes," the court said.
"Criminal proceedings require evidence establishing beyond reasonable doubt that the accused is individually responsible for a crime before a conviction can be entered."
When Oric was sentenced in 2006, Serbian politicians and media denounced the light sentence as a mockery of justice.
On Thursday, Serbian officials said the ruling undermined the credibility of the court and was a blow to international law.
"A verdict like this does not help the process of reconciliation in ex-Yugoslavia, which is one of the tribunal's main goals," said Serbia's top body for cooperation with The Hague. (Niclas Mika)