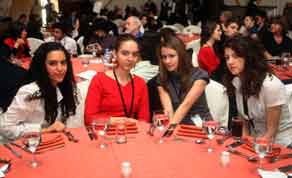 Bosnian students who attended the MUN 2009 conference.
STUDENTS from Sarajevo's First Bosniak High School felt the experience that they received from the Model United Nations (MUN 2009) conference, hosted by Georgetown University's School of Foreign Studies could not be expressed in mere words.
"We do not know how to thank our hosts for the wonderful hospitality that they accorded to visitors, including our school," said Iima Kadric, one of the four students from the school that represented Bosnia and Herzegovina.
The participant said she was overwhelmed by the affection showed by students of Georgetown University to the participants.
"We never felt we were several thousands miles away from our country," said Kadric.
"After coming here and meeting students from a number of nations, it looked the world is too small for us. Perhaps as small as a village where each person speaks a different language," felt Kadric, who was travelling to the Middle East for the first time.
The student who had heard of Qatar of late said she could get a real feel of the country only when she visited the Education City.
The Bosnian student wanted to know if residents here have heard anything about her country. She said a number of those who she met here were confused with the geography of the region to which she belonged.
"Most seem to be not familiar with the history of the region and are familiar with only such names as Serbia, Croatia and Bosnia and Herzegovina," she said. "However, the name of our country's capital – Sarajevo – seems familiar to many people here.
"We had heard of the Education City earlier but it was never known to us that it had a number of prominent US universities, offering superior educational programmes," said Adna Moro, another member of the team.
Dzana Brankovic and Dzenita Sindra are the other two members of the Bosnian school team.