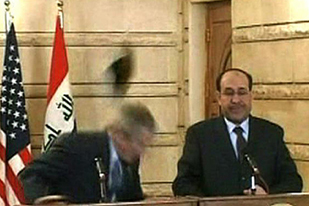 Thousands of Iraqis have taken to the streets of Baghdad's Sadr City in support of a journalist who threw his shoes at George Bush, the US president, during a news conference.
Muntazer al-Zaidi was still in custody on Monday after being detained for what the Iraqi government said was a "barbaric act and ignominious act".
The outgoing US leader, who was making a surprise visit to Baghdad, had just told reporters that while the war in Iraq was not over "it is decisively on its way to being won," when al-Zeidi got to his feet and hurled abuse – and his footwear – at Bush.
Bush, who had been giving a joint press statement with Nuri al-Maliki, the Iraqi prime minister, ducked behind a podium as the shoes narrowly missed his head.
"Millions of Iraqis or rather millions of the people of the world wish to do what Muntadhar did," Uday al-Zeidi, Mundathar's brother, said on Monday.
"Thank God he had the guts to do it and avenge the Iraqi people and the country from those who plunder it and have killed its people."
Al-Baghdadiya television, his employer, has demanded his release after Yasin Majeed, the prime minister's media adviser, said al-Zeidi would be tried on charges of insulting the state.
An Iraqi lawyer told the AFP news agency that Zeidi risked a miminum of two years in prison if he is prosecuted for insulting a visiting head of state.
Freedom of expression
On Monday, al-Baghdadiya suspended its normal programming and played messages of support from across the Arab world.
A presenter read out a statement calling for his release, "in accordance with the democratic era and the freedom of expression that Iraqis were promised by US authorities".
It said that any harsh measures taken against the reporter would be reminders of the "dictatorial era" that Washington said its forces had invaded Iraq to end.
Demonstrations also took place in the southern city of Basra and Najaf, where some people threw shoes at a US convoy.
Khalil al-Dulaimi, Saddam Hussein's former lawyer, said he was forming a team to defend Zeidi and that around 200 lawyers, including Americans, had offered their services for free.
"It was the least thing for an Iraqi to do to Bush, the tyrant criminal who has killed two million people in Iraq and Afghanistan," he said.
"Our defence of Zaidi will be based on the fact that the United States is occupying Iraq, and resistance is legitimate by all means, including shoes."
In Iraqi culture, throwing shoes at someone is a sign of contempt and the incident is likely to serve as a lasting reminder of the widespread opposition to the US-led invasion of Iraq – the conflict which has come to define Bush's presidency.
"Throwing the shoes at Bush was the best goodbye kiss ever … it expresses how Iraqis and other Arabs hate Bush," Musa Barhoumeh, editor of Jordan's independent Al-Gahd newspaper, wrote.
But support has not been entirely universal and some Iraqis believe al-Zeidi crossed the line.
"I deem it unnecessary. This thing is unjustifiable. It is an incorrect style. We are not violent. One can voice his opinion in other ways," one Baghdad resident said.
Bush's visit to the Iraqi capital came just 37 days before he hands the presidency over to Barak Obama, who has vowed to withdraw troops from Iraq.