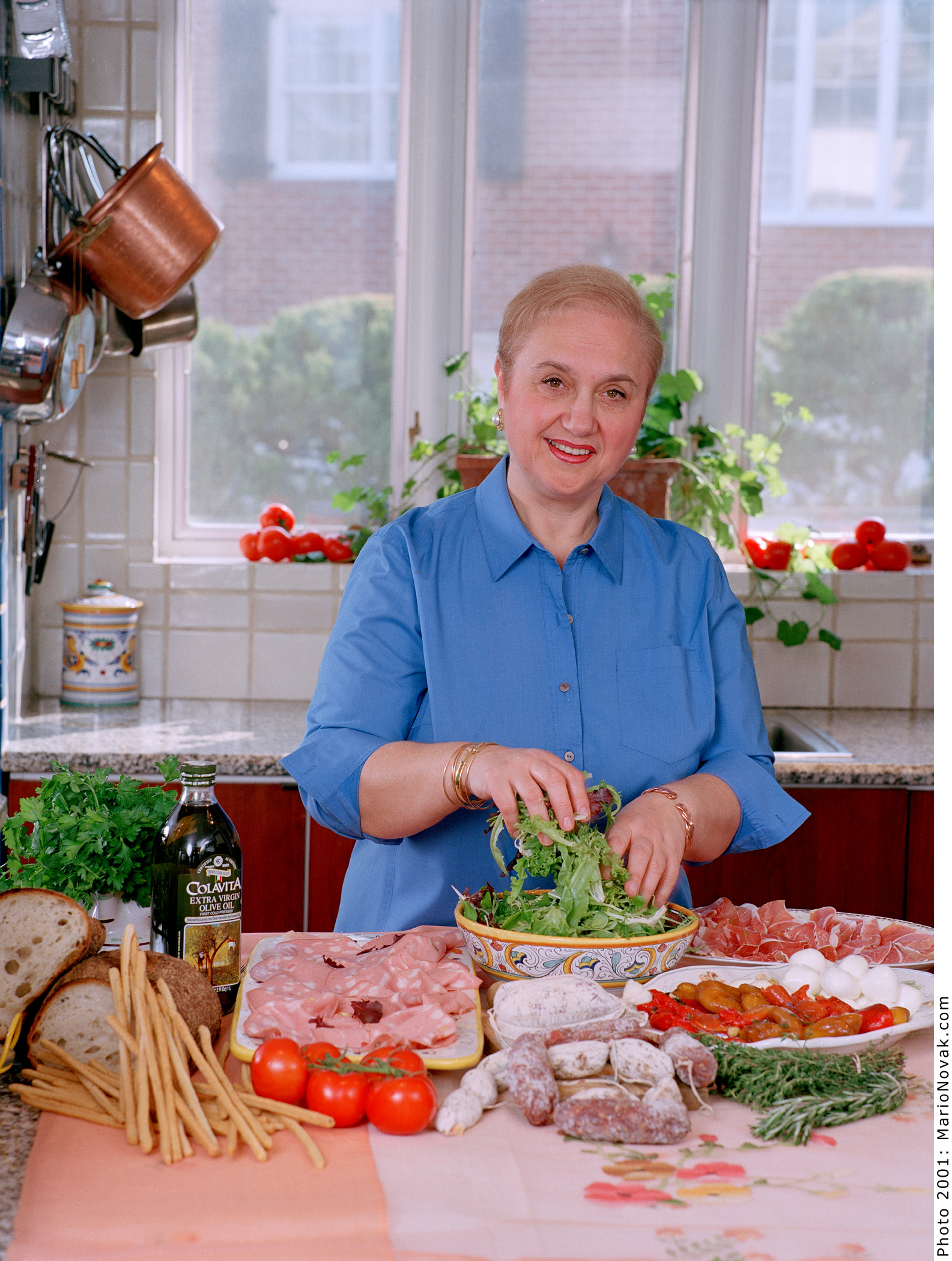 Lidia Bastijanich PHOTO: Marko Novak
LIDIA'S ITALIAN-AMERICAN KITCHEN, taped in Lidia's home kitchen in Long Island, New York, debuted in September 1998 across the United States. Each show – in both the original and the new season – is packed full of tips, techniques, recipes and remembrances passed on by generations of Lidia's family.

Lidia has been a successful restaurateur since 1972, when she opened Buonavia Restaurant in Queens, New York. Throughout the past four decades, she has run or co-owned five popular restaurants in New York, including the award-winning Felidia. She is also co-owner of Lidia's in Kansas City and Pittsburgh.

Lidia's latest book, Lidia's Italian-American Kitchen , was published by Alfred A. Knopf in October, 2001. Lidia, the most admired teacher in America of good Italian cooking, offers her most instructive and personal book yet. Laced with stories about her own experiences since coming to America, and full of instructive detail and warm personal commentary that have made her television shows so special, this is a cookbook that is almost as fun to read as it is to cook from.

Lidia is also the author of several other top-selling books, including La Cucina di Lidia (Doubleday, 1990), Lidia's Italian Table (William Morrow & Co., 1998) and Recipes from Lidia's Italian-American Table (A La Carte Communications, 2000). With the passion of a poet and the understanding of a food scholar, Lidia explains in her books how home cooks can coax an unimaginable intensity of flavor from dishes by combining a reverence for fresh ingredients with attentive cooking, judicious seasoning and an unhurried attitude.

March 13, 2009, New York: Supporters of The Advocacy Project (AP) are invited to join Beba Hadzic, the Founder and Director of Bosnian Family (BOSFAM), at a fundraising lunch in New York Thursday hosted by famed chef Lidia Bastianich.
The lunch will take place from 12 to 2 p.m. March 19, at Bastianich's midtown restaurant, Felidia. Tickets are $75, with a the proceeds going to support BOSFAM's work with women affected by the war in Bosnia.
Ms Bastianich, who specializes in Italian dishes, has been a fixture on PBS cooking shows since 1998. In 2007, she launched her latest show, Lidia's Italy, and has also appeared as a judge on the program Top Chef. She owns four restaurants nationwide and has also authored several cookbooks. Ms Bastianich was born in Istria, a region which is now a part of Croatia, and often contributes her talents to causes related to the Balkans.
BOSFAM, started in 1992 during the war of agression in the Balkans, provides a gathering place and source of income for women survivors of the conflict through traditional Bosnian carpet-weaving. Many of the weavers lost relatives in the Srebrenica massacre, and have since produced the Srebrenica Memorial Quilt honoring massacre victims.
Ms Hadzic is visiting the United States to show the quilt in the Bosnian diaspora and raise awareness and support for BOSFAM's work. Her trip is being sponsored by the Heinrich Boll Foundation of North America.
The fundraising lunch is supported by Heinrich Boll, Ms Bastianich, the Center for the Study of Human Rights at Columbia University, the Bosniak-American Advisory Council for Bosnia and Herzegovina, and AP.
Felidia is located at 243 East 58th Street in Manhattan. For more information or to RSVP, please contact AP Outreach Coordinator Alison Sluiter.
WHO IS BOSFAM?
BOSFAM, derived from BOSnian FAMily, was founded in 1994 with the assistance of OXFAM, a non-governmental organization based in the UK. The BOSFAM of today originated in the creation of knitting centers for displaced women implemented by OXFAM and local community members. The collective knitting centers provided the women, and in many cases their families, with a place to occupy their minds and hands during the conflict. The success of the knitting project evolved into a bigger project – the creation of centers for female victims of war. In these centers, the women gathered together not only to knit, but also to talk, play with their children, and help each other cope with the traumatic events of war.
In 1994, during a period of daily attacks and bombings, many of the international aid organizations began to pull out of the region. There was concern that OXFAM would eventually withdraw its staff as well, leaving the displaced women of these centers with no support. The local women working for OXFAM, recognizing the importance of these centers, decided to continue working with the displaced women on their own. And so, BOSnian FAMily, BOSFAM, was formed.
With initial support and training from OXFAM, BOSFAM grew in capacity and became an independent organization. Within a short period of time BOSFAM managed to organize and mobilize a strong network of friends, families, and neighbors. The strength of this network became immediately apparent when Srebrenica fell in 1995.
The women of BOSFAM, who were themselves concerned with the destruction of Srebrenica, welcomed the women from the region who lost many family members and friends. The women of BOSFAM lended their support – giving the women of Srebrenica a place to stay, work, talk and cope with their losses.
BOSFAM today:
Since our beginnings we have collaborated with multiple domestic and international organizations to build our projects. Our organization started as an occupational therapy program and has since grown to become a successful income-generating program for our women. The aim of BOSFAM is to build each woman's resourcefulness while providing a community in which to gather.
In BiH, family is synonymous with tradition. Family is the basis of belonging, safety, loyalty, trust and pride. BOSFAM continues to provide a family support network for our women weavers and our products demonstrate our pride in the traditions of BiH. We work together – regardless of age, religion or ethnic background.
The times we are living in – a time of reconstruction and transition – require flexibility, patience, hard work and determination in order to succeed. BOSFAM continues to make its contribution towards this transition, through its women, extended family and community. Our projects are intended for those who dare to face the challenge of the times ahead, those wanting to improve themselves and help others by means of skilled work and emotional support