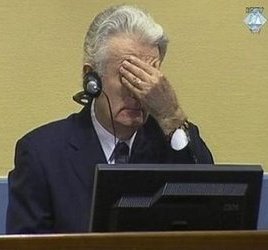 Here is a timeline of events which led up to the trial of former Bosnian Serb leader Radovan Karadzic:
1992 — Karadzic opposes an independent Bosnia. Bosnian Serbs declare a breakaway republic. War erupts and Serbs lay siege to Sarajevo. General Ratko Mladic becomes commander of the new Bosnian Serb Army which overruns 70 percent of Bosnia.
1993 — Civilians are killed daily as the siege of Sarajevo takes place. War breaks out between Muslims and Croats. Karadzic, in Athens, signs an international peace plan, but the Bosnian Serb parliament declines to ratify it.
1994 — War between Muslims and Croats ends in summer. A U.S., British, French, German, and Russian "Contact Group" submits maps for a territorial division of Bosnia. More than 90 percent of Bosnian Serbs reject it.
Yugoslav leader Slobodan Milosevic cuts off aid to Bosnian Serbs for blocking a "fair" deal.
1995 — Karadzic and Mladic fall out, blaming each other for recent military success of Muslim forces. In May, NATO bombs Karadzic's camp after Serbs ignore an ultimatum to stow their heavy weapons. Serbs retaliate by shelling a cafe in the U.N. safe area of Tuzla, killing 70 people.
July 11 – Mladic's forces overrun Srebrenica, another "safe area" for Muslims. He reassures Muslim refugees they will be safe. Over the next few days, about 8,000 Muslim men and boys are killed in the worst atrocity since World War Two.
July 25 – The U.N. war crimes tribunal issues indictments against Karadzic and Mladic for genocide, war crimes and crimes against humanity for atrocities against civilians throughout Bosnia.
November 16 – U.N. war crimes tribunal charges Karadzic and Mladic with genocide, war crimes and crimes against humanity over events at Srebrenica in Bosnia.
November 21 – A deal struck in Dayton, Ohio, gives Serbs half of Bosnia. They must cooperate with the U.N. war crimes court.
June-July 1996 – Major powers demand Karadzic be removed. He hands over to deputy Biljana Plavsic. Plavsic sacks Mladic in November.
1998 – Reports emerge in autumn that Karadzic, finally going underground, has left his stronghold of Pale heading east to Visegrad and later to Foca.
September 1999 – Karadzic's wife Ljiljana says she does not know where he is but she still has ways of keeping in touch.
June 2001 – Carla Del Ponte, chief prosecutor at the International Criminal Court for the former Yugoslavia (ICTY), campaigns to demand Mladic and Karadzic be arrested, criticizing NATO as well as Belgrade and Bosnian Serbs.
February-April 2002 – NATO peacekeepers step up efforts to arrest Karadzic but raids turn up nothing. Karadzic supporters in Belgrade publish a comedy play they say he wrote on the run.
December 12 – Karadzic's wife, under international pressure, resigns as head of the Bosnian Serb Red Cross.