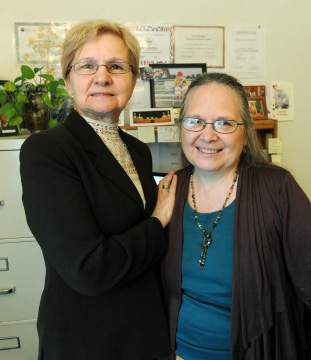 Mensura Berberovic, left, a Muslim, and Rev. Katie White, a Christian, are photographed June 14. White is going to Bosnia and will visit the site where Muslims were killed in the name of Christianity. ROB ENGELHARDT/ERIE TIMES-NEWS
In July 1995, 8,000 Muslim men and boys were massacred in the Bosnian town of Srebrenica.
An Erie County Christian pastor is traveling there this July and wants your written words of comfort, consolation and healing to go with her.
"That's what I'm hoping to take with me, is prayers from people of Erie of all faiths," the Rev. Katie White of Crossroads Community Baptist Church said.
She and others from the Erie area are traveling to Turkey and Bosnia-Herzegovina through the generosity of the Bosnian Cultural Center of Erie, White said. The group participating in the cross-cultural experience includes educators, artists and others, she said.
The travelers will leave the U.S. on June 29 and eventually arrive in Sarajevo on July 9. White, the president of Inter-Church Ministries of Erie County, is then extending her trip to include Srebrenica. She plans to join Bosnian survivors walking there for memorial gatherings around the anniversary of the July 11-13 killings.
With her will be Nijaz Berberovic. White works with his wife, Mensura Berberovic, at the International Institute of Erie. The Berberovics fled their homeland in the 1990s, arriving in Erie in 1995.
Mensura Berberovic isn't able to make the trip with her husband and White, but is pleased that the Christian pastor is going.
"She can go and learn and bring her experiences here and share with everyone," said Mensura Berberovic, a Bosnian Muslim.
Erie is her home now, and if people here know about her and understand her and Islam, maybe she and other Muslims will be better accepted, Mensura Berberovic said.
She has said that since Sept. 11, she has often asked people not to blame all Muslims for what happened in the terrorist attacks. She was relieved when Osama bin Laden was killed this year and equally happy just weeks later when Ratko Mladic was arrested. The former Bosnian Serb general faces war-crimes charges related to the Srebrenica slaughter.
White said that the killings in both Bosnia-Herzegovina and the U.S. were done by people claiming their religion justified their behavior.
She said she hopes her visit to Srebrenica can help her "to discover ways we can bring healing when unspeakable things have been done in the name of someone's religious faith."
One way to start is with the written messages and prayers for healing for the survivors and in memory of those who died that White will carry with her to the memorial gathering. She said she will leave the notes at the grave site.
Messages for White to take to Srebrenica can be e-mailed to [email protected] or mailed to Katie White, International Institute of Erie, 517 E. 26th St., Erie, PA 16504. ( Goerie.com)