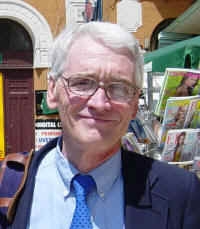 Francis A. Boyle is currently Professor of law at University of Illinois, with Areas of Expertise in International Law. Dr. Boyle has held positions at the Center for International Affairs, as well as the Department of Government at Harvard University; the Scholar-Diplomat program with the U.S. Department of State, Political-Military Affairs; the legal firm of Bingham, Dana, and Gould in Boston.
Message from proven friend of Bosnia, former General Agent Representative of Bosnia and Herzegovina before the International Court of Justice.
Dear Bosnian Friends:
Notice my comments below on the Republic of Lithuania.
Despite being invaded, occupied, annexed and subjected to genocide by Stalin, Molotov and the NKVD/KGB as of 1939, the Lithuanians NEVER signed away the existence of their State under international law, in the hope and expectation that eventually they would get their Republic back, which they did in 1991. So far, BIH has not signed any document that sells out its Statehood under international law, though to be sure Owen-Stoltenberg, the EU Action Plan, and the First Draft of the Dayton Agreement would have done so.
So during the course of these upcoming constitutional negotiations, Bosnia must do NOTHING that would compromise its Statehood under international law. If you hold out and continue to resist, eventually you will get your Republic back–just like the Lithuanians did after 52 years. If the Lithuanians could triumph over Stalin, Molotov, the KGB, genocide, and the Soviet Union, certainly the Bosnians can someday triumph over Milosevic, Karadzic, Mladic, Serbia, genocide, and Republika Srpska.
Happy New Year!
Professor Francis A. Boyle