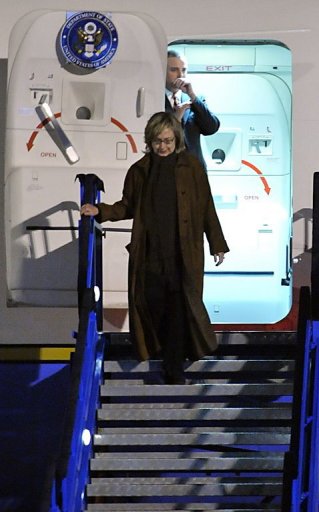 Secretary of State Hillary Clinton would press Bosnia's quarrelsome leaders on Tuesday to set aside deep ethnic divisions and bring the Balkan nation more fully into Europe's fold, U.S. officials said.
Clinton, on a diplomatic swing through the Balkans, would step up U.S. pressure on Bosnia's Serb, Croat and Muslim leaders to enact political and economic reforms that could open the door to both European Union and NATO membership, the officials said.
Since the 1992-95 war in Bosnia in which about 100,000 people were killed, it has lagged in reforms and remains near the back of the queue of Western Balkan countries aspiring to EU and NATO membership.
"It is fair to say that the political process is stalled," Philip Gordon, U.S. assistant secretary of state for European and Eurasian affairs, told reporters during Clinton's flight to Bosnia on Monday.
"That is one reason the secretary wanted to come here and underscore for the parties their need to move forward with the types of reforms that will strengthen their candidacies for European Union membership and NATO membership," said Gordon.
Clinton's arrived just over a week after presidential and parliamentary polls in the former Yugoslav state which appeared to do little to change ethnic rivalries that have dogged the uneasy union of its Muslim-Croat federation and Serb Republic.
The deadlock has set back Bosnia's chances of EU and NATO entry, with leaders unable to agree on constitutional reforms or on dividing fixed military assets — conditions that Western nations say are essential if it is to meet membership standards.
Gordon said Clinton would stress to leaders of all three communities, starting with Bosnia's tripartite presidency, that it was time to follow through on the promises of U.S.-brokered 1995 peace accords which ended Bosnia's war.
"The rest of the region is moving toward Europe and Bosnia is going to have to overcome these ethnic divides," said Gordon.
Clinton's visit is her first as secretary of state to Sarajevo, a city that dominated the headlines during the administration of her husband, former U.S. President Bill Clinton.
She will travel on to Belgrade where U.S. officials say she will urge Serbia's leaders to follow through on an offer of talks with the former Serbian but ethnic Albanian dominated province of Kosovo, which declared independence two years ago and remains a point of friction for the region.
Clinton will visit Kosovo on Wednesday, seeking to emphasize the U.S. commitment to equal rights for its Serb minority population, before moving on to Brussels for discussions with her NATO counterparts.