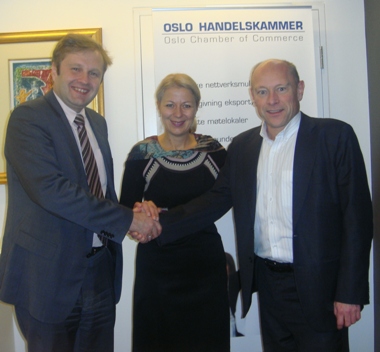 CEO of Bosna Bank International Amer Bukvic took part in the Conference on 'Religion and Development' which was held in Oslo, on 8. October, 2010, under the auspices of the Norwegian Church, Islamic Council of Norway and the Norwegian Mission for Development (Bistandsnemnda). The conference was sponsored by the Norwegian Agency for Development and Cooperation (NORAD) – an arm of the Ministry of Foreign Affairs of Norway.
Conference in Oslo explored connections and synergies between religion and economic development and added to the debate on the role and position of religion in the Norwegian society and its public role under the growing pressure of the global circumstances.
In his presentation Amer Bukvic shed light on the Islamic perspective on religion and development. Mr. Bukvic in his speech addressed practical solutions of the Islamic banking industry to economic challenges which Muslim contemporary societies, as well as the world at large, have been facing in recent times. In his paper, BBI director also touched upon the global financial crisis and outlined the solutions which Islamic banking could offer in order to overcome the most adverse affects of the crisis. He spoke about the specific role BBI is playing concerning its role in the development of Bosnia and Herzegovina.
During his visit to Norway Mr. Bukvic and Elma Mahmutovic, Ambassador of Bosnia and Herzegovina in the Kingdom of Norway held several important meetings with the Norwegian officials, from the governmental sphere of economic affairs and the private sector alike. It is worth noting their meeting with Lars-KÃ¥re Legernes, director of the Oslo Chamber of Commerce with whom they discussed the Sarajevo Business Forum. Mr. Bukvic and Ambassador Kovacevic invited Legernes to attend the next SBF 2011. Among issues they discussed were means and modalities of promoting the Sarajevo Business Forum in Norway and other Scandinavian countries.
Director Bukvic and Ambassador Kovacevic also met with Eric Solheim, Norwegian Minister for Environment whom they informed on the Sarajevo Business Forum initiative and invited him to participate in SBF 2011.
Mr. Bukvic also gave talk on the role of 'Islamic banking and its Challenges in the West' to members of the Bosnian Islamic community in Oslo.