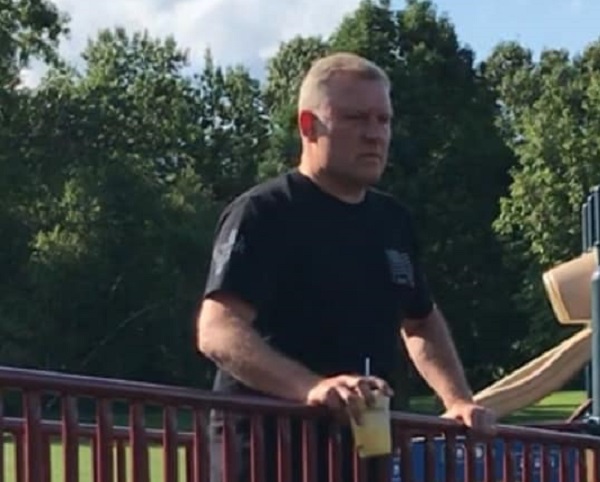 After I confronted him he said a word for word : "YOU CAME HERE TODAY TO DIE" "YOU'RE GOING TO DIE"
After he noticed we're calling 911 he fled the scene in his car ( White Mercedes SUV).
The New York chapter of the Council on American-Islamic Relations (CAIR-NY), the state's largest Muslim civil rights and advocacy organization, today called on the Colonie Police Department in the Town of Colonie, N.Y., to investigate alleged Islamophobic threats to kill Muslims as a hate crime.
CAIR-NY is also asking for the public's help in identifying the white male suspect (pictured above) who reportedly claimed to be a police officer.
According to Rashad Mohamed Benantar, while he was at the Crossings of Colonie playground yesterday with his young nephews and one-month-old son, a white man approached his nephews. The man allegedly began to shout Islamophobic, xenophobic and racist comments such as "your prophet is a dog" and "this is a Christian country" at the children.
When Benantar came to the children's aid, the white man reportedly threatened Benantar, telling him "You came here today to die. You are going to die." Once the man noticed that 911 was being called, he fled the scene in a white Mercedes SUV. During the incident, the alleged assailant identified himself as a police officer.
SEE BENANTAR'S FACEBOOK POST: facebook.com
CAIR-NY Litigation Director Ahmed Mohamed said:
"The Colonie Police Department must investigate this incident as a hate crime and needs to do so before this suspect tries to follow through with his deadly promises. The thought that he may be a police officer is disturbing. This family has allegedly been terrorized by this bigot and we are asking for the public's help in identifying him. Anyone with information about this incident, should contact Colonie Police and our office at 646-665-7599 or [email protected] This incident is yet another example of how the political environment has emboldened bigots to attack marginalized communities. We need law enforcement to send a loud message that terrorizing civilians will not be tolerated."
Yesterday, CAIR-NY called on the NYPD to probe the stabbing of an Afro-Caribbean Haitian as a hate crime when a white suspect allegedly yelled "All of these ni**ers need to get the hell out of the community."
SEE: CAIR-ny.org
Individuals in New York are asked to report any bias incidents to police and to CAIR-NY at (646) 665-7599, or by filing a report at: http://www.cair-ny.org/incident-report/
CAIR's mission is to protect civil rights, enhance understanding of Islam, promote justice, and empower American Muslims.
La misión de CAIR es proteger las libertades civiles, mejorar la comprensión del Islam, promover la justicia, y empoderar a los musulmanes en los Estados Unidos.