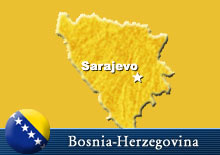 The arrival of Austro Hungarian rule in Bosnia meant a radical shift from a more traditional approach to art to that of contemporary Europe. Dozens of young people set off to study painting at the most renowned academies of the Monarchy, and it was through them that Bosnia was washed by the waves of Symbolism from Vienna, Expressionism from Munich and Impressionism from Prague. A large number of works from this and later periods can be found at the Art Gallery of Bosnia-Herzegovina in Sarajevo.
In the 1950's Bosnian art awakened from a short lived period of social realism. Flatness and geometricism became synonyms for the modern, demonstrated through the works of some outstanding artists, including Ismar Mujezinovic, Vojo Dimitrijevic, Franjo Likar, Mersad Berber, Safet Zec, Edin Numankadic, Mustafa Skopljak, Milorad Corovic, Alija Kucukalic and Dzevad Hozo. Works in the domain of Conceptual art were mastered by Sarajevo artist Braco Dimitrijevic, who succeeded early in penetrating the international art scene. Bosnian graphic artists and painters not only achieved results of the greatest value at an individual level, but also gave rise to what was to become an entirely recognizable authentic Bosnian school.
As the cultural life in Bosnia-Herzegovina began to flourish, towns like Mostar, Banja Luka and Tuzla became stronger centres of artistic life. Institutions, public discussions and different projects helped to raise the general standard. The Art Gallery and Collegium Artisticum in Sarajevo, as well as the Portrait Gallery in Tuzla, became known as galleries where avant-garde contemporary art exhibitions were held.
The Sarajevo Fine Arts Academy was established in 1972, giving rise to a new generation of artists who radically shook the art scene throughout the eighties. Perishable materials were used, events and performances executed, installations and diverse media utilized, satisfying the demands and experimentation of the of the time international art scene. A group of artists named 'Zvono', together with Jusuf Hadzifejzovic who studied at the renowned Düsseldorf Kunst Academy, were the most important figures of this contemporary Bosnian scene, which culminated with Sarajevo hosting the final YU Documenta held at the Collegium Artisticum in 1988.
During the siege of Sarajevo, maintaining cultural work became a form of resistance in itself, and it was possible to attend exhibitions, theatrical and musical events and the cinema all through the war. Cultural activity continued for enthusiastic audiences, providing a dynamism that continued into the post war era. Furthermore, although Bosnian institutions were affected by their enforced wartime isolation from global cultural achievements, independent media centres such as the Sarajevo Centre for Contemporary Arts (SCCA), Obala Art Centre, pro.ba and most recently the Media Centre have played a significant role in providing contemporary art education. In order to bridge the information gap between international and local artists, these centres offer workshops, financial aid and courses in contemporary art mediums currently not available at the Sarajevo Art Academy.
The lack of gallery space in Sarajevo after the war was turned into an advantage by some of Sarajevo's leading artists, who have since used the city itself as their exhibiting space. Hence public art, site specific art and installation became, and still are, a rather familiar scene in Sarajevo. The new generation of artists – Nebojsa Seric Shoba, Maja Bajevic, Danica Dakic, Kurt&Plasto, Sejla Kameric etc – have played an important role in the international art world, bringing with them their particular experience of war, migration and loss. Neverthless these artists reveal Sarajevo's and Bosnian, effort to regain its previous cultural vibrancy.