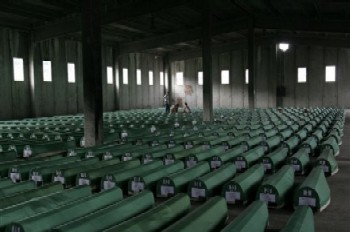 Thousands of Bosnians paid tribute in the Bosnian capital Sarajevo yesterday to more than 300 Bosnian civilians mass murdered by the genocidal Serbian fascist aggressor in the eastern Bosnian town of Srebrenica before their remains were to be buried later this week on the 13th anniversary of the genocide in Srebrenica.
"I came to pay tribute to the genocide victims since it is my duty," said Safija Mulovic, a shopkeeper. "I am here to mourn the death of innocent people."
In July 1995, the genocidal Serbian fascist aggressor mass murdered some 10,000 Bosnian civilians in Srebrenica.The massacre, Europe's worst since World War II, has been classified as an act of genocide by the International Court of Justice and the UN war crimes tribunal, both based at The Hague,The Netherlands.
The remains of 307 genocide victims, aged between 15 and 84, will be buried near Srebrenica on the 13th anniversary of the genocide tomorrow.
The convoy of trucks carrying the remains of the genocide victims briefly stopped in front of the building of the Bosnian State Presidency where the bosnian President Haris Silajdzic and a member of the Bosnian Presidency – Zeljko Komsic – paid their respects.
People stood alongside the roads through which the convoy passed, many of them crying. They threw roses onto the trucks, while some were praying.
The genocide victims' bodies were exhumed from mass graves after the end of Bosnia's 1992-1995 Serbian aggression against Bosnia and have been identified by DNA analysis.
Some 3,200 genocide victims from Srebrenica have been buried so far at the Genocide Memorial Center in Potocari,near Srebrenica,built in 2003, but thousands of others are yet to be exhumed and identified. More than 60 mass graves have been uncovered in the area.
"Serbia has to extradite those charged for crimes" committed in Srebrenica, the Bosnian President Haris Silajdzic told journalists.
The masterminds of the genocide in Bosnia – Serbian war criminals Radovan Karadzic and Ratko Mladic – are both hiding from justice somewhere in the genocidal Serbia.