On Kosovo Bosniaks life is worthless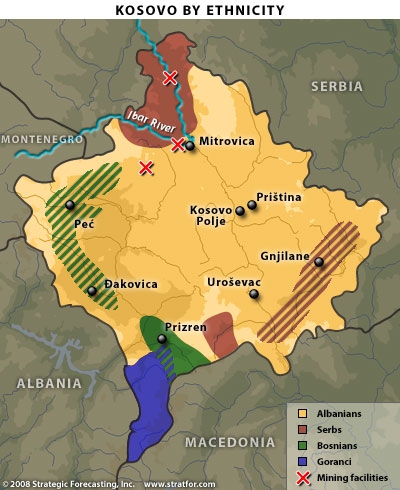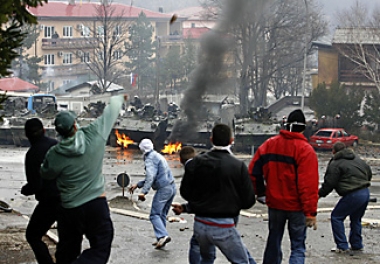 Every day conflict on the Mitrovica's street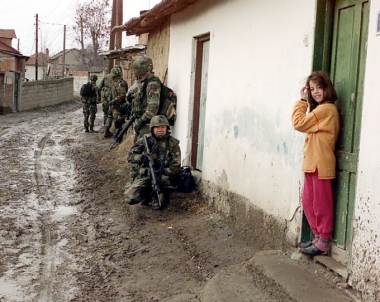 Girl and military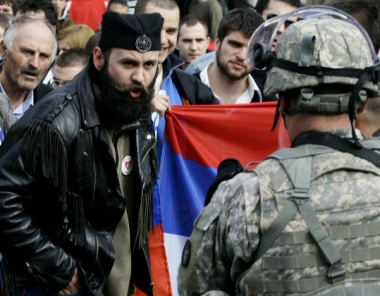 Serbian Chetniks i Europian military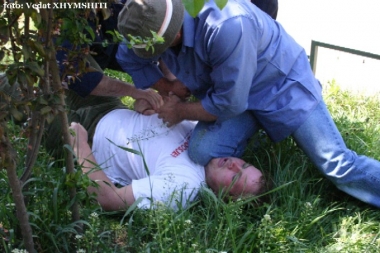 Serbians beating civilian activist in Mitrovica
Bosnians in Kosovo have some kind of rights after the end of Kosovo restlessness. They have their representatives in some townships, parliament of Kosovo, some representatives in board of Kosovo president Fatmir Sejdiu… They say it is not that bad but if you look at it deeper you can see things are not prosperous either.
From hundreds of thousands living there in nineties of previous millennium there are less then fourthy thousand Bosnians left. Some of them were used by former Serbian government to attain their goals in a way to oppose Albanians. In time of Nato bombings Serbian military authorities had tried to engage about two hundred Bosnians from Prizren area to combat Albanians and NATO soldiers. Luckily that never happened. Mobilized Bosnians had returned weapons and uniforms and run thru Sar-Planina to Macedonia.
After war, due to similar Bosnian and Serbian language, Bosnians in Kosovo had a lot of problems. They were not allowed to speak their own language!
About 500 households were robbed In Prizren, city where the most of Bosnian population lives.
Some of well-known Bosnians were not only robbed but the entire family was beaten.
In these extreme attacks a lot of Bosnians were killed. The cruelest of all was when four members of Skenderi family were killed in Tusus, area of Prizren. Married couple, their twenty year old daughter and grandmother were killed in this cruelty. This crime as well as other crimes were not explained to today's day. The worst thing is, nobody is allowed to ask that question.
Following negative events for Kosovo Bosnians, we have to mention taking over the properties, most of them under pressure with minimum prices, not to mention that some Bosnians still didn't get the money for their "sold" homes. Taking over the business offices in Pristina, Mitrovica and other Kosovo cities is similar story!
Township Prizren had started to build "turistic village" in Prevalcu, stationed between township Prizren and Strpce. There is invisible taking over of Bosnian possession in Gornje Selo. Many of them had complained even International Association in Kosovo, but nothing had happened. Taking over Bosnian possession didn't stop and there are signs they are not welcome in their own hometown.
In township Decane, village Rastavice Bosniak family wasn't allowed to bury their mother in Muslim cemetery and had to bury her in their backyard. Their children were not allowed to attend school in their (Bosnian) language but had to attend school in Albanian language. This is called democracy.
As we had mentioned schooling, only in township of Prizren there are about 2000 Bosnian pupils attending elementary and high schools in Albanian language, suffering manipulation and pressure on their parents. In the beginning there were only manipulations, after war they are being threatened and there are villages without Albanian population but schools are attended in Albanian language.
About hundred Bosnians were killed or are considered as disappeared for past ten years due to ethnical intolerance. The biggest number of killings happened in Pec. Due to shooting on one of Bosnian houses in village Dobrusi, baby was born with the deformation. We could not get an information whether this baby is still alive.
They are also taking over the possessions in Pec specially in Vitomirica.
City in the northern part of Kosovo, Kosovska Mitrovica is special story. Bosnians in Mitrovica specially in Bosnjacka mahala are torn in two. The victims of Serbo-Albanian intolerance are Bosnians.
Before war in Kosovo, couple of thousands Bosnians lived in Mitrovica and the neighborhoods were named after Bosnians as for instance Bosnjacka mahala. From thousands of people living in Mitrovica before war, there are only a few left and those are stuck between Serbs and Albanians.
Mitrovica is divided on northern(Serbian) and southern(Albanian) part. The border is river Ibar and the northern part is near Bosnjacka mahala which is synonym for armed fights, explosives and shootings between two sides for ten years now. Sadly most of the population here were Bosnians.
On the northern part of Ibar, Serbian government was buying off the land from Albanians and had built a place for Serbian Community.
Most of the Bosnians had left, as there are no conditions for normal living.
Unfortunately none of the international representatives had tried to resolve the problem of Bosnian minority in Mitrovica, nor did they offer possible resolutions that would meet minimum standards every human being deserves.
In southern part of Mitrovica there are almost no Bosnians left, and northern part has only couple of hundreds. Children are attending public schools (Serbian government in Mitrovica) in Serbian language. A lot of Bosnians are still compelled to sell their properties under the market price.
One of the biggest Bosnian communities in Kosovo had counted ten thousands of people and today this community counts only couple of hundreds. The colony of Bosnians had found their new homes in European states, Australia and United States but unfortunately are treated negative, when it comes to their rights, due to the general situation in Kosovo, but nobody is taking in consideration specific problem of Mitrovica.
Bosnians are under a lot of pressure also in township Leposavic, as two Bosnians had witnesses on TV but this time from Serbs due to their majority in this part.
They are not allowed to have mosques nor do they have freedom of worship and police is always mistreating them, but they are not allowed to complain to anybody.
Political-safety as well as economic situation is very bad, specially in cities where Bosnians live.
Factories are closed and it is very hard to find a job. Serbo-Albanian population is being helped by Belgrade and Pristina and we can not say that anybody is helping Bosnians so they are at the end of their livelihood. Their biological existence in Kosovo is questioned!
With all these facts out there, Bosnia is still not reacting, due to her bad political situation. Except from one official visit in Kosovo, not even religious leader of Bosnians, had visited Kosovo Bosnians.
As some Bosnian representatives in Mitrovica, like Mr. Nedzad Ugljanin had said, even Kosovo Bosnian representatives are not paying attention to them, so they are left behind in Serbo- Albanian fights in and around Mitrovica.