New York – Berlin – Paris – Brussels – Zürich – Vienna – Stockholm, Roma, Ankara, Sarajevo, Novi Pazar 
July 5, 2020 
Letter to the UN, US Department of State, EU, EP and the Governments of Germany, Great Britain, France, Sweden, Austria, Switzerland, Belgium, Italy…
Dear Excellency,
We, the signatories of this letter, representatives of Bosniak organizations originating from Sandzak, territorial region in Republic of Serbia, who currently live in Europe, the USA and Canada, would like to inform you and ask for your help regarding the dire situation in regards to the spread of Coronavirus (COVID19) in the cities of Novi Pazar, Tutin and Sjenica, which are inhabited by the majority of Bosniak population.
Dear Excellency,
A pandemic caused by the spread of Coronavirus has hit the entire world. Unfortunately, the infection rate and mortality rate are extremely high. We sincerely express our deepest condolences for each victim. The virus has also spread to the Balkans. In the last two weeks, the number of COVID19 patients has escalated in the Sandzak region, in the cities of Novi Pazar, Tutin and Sjenica, which are within the state borders of the Republic of Serbia. It is an alarming situation; the number of new cases is doubling daily. Unfortunately, the mortality rate is very high compared to the number of populations. So far, in two cities, Novi Pazar and Tutin, between June 20th and June 30th, there were 114 deaths caused by the COVID19.  There have been cases where multiple members of one family have died. There are a significant number of younger people among the dead. However, we fear that because of the political suppression by the Serbian government and its president, records are not updated and published on a daily basis, and are kept secret, the numbers of deaths are significantly higher than that being officially reported.
In such a dire situation, where the health-care system has collapsed, the government of Serbia with President Aleksandar Vučić and Prime Minister Ana Brnabić, as well as their obedient ministers Rasim Ljajić and Zlatibor Lončar, with the local hospital administration, are hiding the real numbers of infected citizens and those that seek medical attention. Due to the inadequate and non-functional equipment in the hospitals, insufficient inventory capacity, and especially insufficient number of professional medical staff, the survival of entire families is in question. The whole region of Sandzak is faced with physical disappearance, which is the ultimate goal of the Serbian government, having in mind the history of that region and its Bosniak population.
Dear Excellency,
Medical experts from Bosnia and Herzegovina offered to help their colleagues and its people in Sandzak area, in cities of Novi Pazar, Tutin and Sjenica, to assist in the treatment of patients with COVID 19, as well as to prevent the spread of Coronavirus. The state leadership of Serbia rejected this offer from neighboring Bosnia and Herzegovina. This evil and inhumane act of stopping medical professionals who are willing to help when you need it the most have its purpose in stopping the truth of coming out about the real situation and purposely delaying medical help so that the consequences are much bigger.  President of Serbia, Vučić, has openly stated lies on the national TV, when he said that "hospitals in Novi Pazar are better equipped than hospitals in Germany". This lie is easily disputed with the recordings coming from the region of Sandzak, where we see patients lie in pairs in bed, on chairs in the hallways, pantries and closets, kitchens, and even on the sidewalk in front of the emergency rooms, and etc.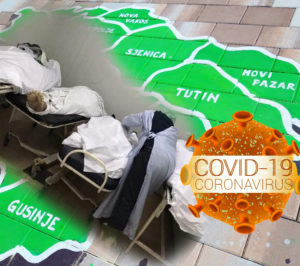 In addition, two patients who were in very serious condition were sent from from Sjenica, to a regional medical center located in Uzice, some 100 kilometers away, where they were not accepted. They have died upon their return home. When asked, members of the government stated that there was a misunderstanding. It is clear that this was not any kind of misunderstanding, but in fact a double murder committed by the hospital administration by rejecting the patients. This murderous act is against the law and needs to be persecuted to the fullest extent, which we doubt that any legal action will be taken as this kind of behavior is (un)official government policy in Serbia towards its minority Bosniak population.
To all of those who are familiar with the past of the president of Serbia Aleksandar Vucic, this nationalist, criminal and chauvinist approach towards the situation in the Sandzak region where the minority Bosniak population is the majority, is not a surprise at all. He – Vučić, is known to the public for the war threat sent to NATO that he would kill a hundred Muslims for one Serb. In the West, it was believed that he had finally retreated from the creation of Greater Serbia policy, but that is not the case. He is also known to have been on the battlefield around Sarajevo in the Chetnik units of war criminals Slavko Aleksic and Vojislav Seselj during the genocidal aggression on Bosnia and Herzegovina. After, he was the minister for information in the regime of the war criminal Milosevic. Given his experience during the aggression on Bosnia and Herzegovina, where they were actively killing innocent people in and around Sarajevo, he is very well equipped to carry this type of special warfare against its minority population, its citizens. This is the highest level of a murderous criminal conduct on behalf of the Serbian government against its own citizens.
Dear Excellency,
As we remember God's words, "And whoever saves one – it is as if he had saved mankind entirely." In the name of humanity, on behalf of all patients, we call on you and demand from you, through your governments and embassies, to urgently send medical professionals and medical assistance to the cities of Novi Pazar, Tutin, Sjenica, etc. We also urge you to send EU representatives to find out the truth and to influence the leadership of Serbia to accept medical help experts from Bosnia and Herzegovina, Turkey, and other countries offering assistance.
May God help you for all your actions and your deeds!
With respect,
Muharem Purišić, dipl.ecc., President of the Bosniak American National Association (BANA)  USA
Dr. Emir Ramić, director of Institut for genocide research – Canada
Dr. Mersim Ziljkić, spokesman of the BANA – USA
Esad Krcić, director – editor Bosniaks / Bosnjaci.Net
Smajle Srdanović, Predsident of the Islamic Unity and Cultural Center Plav-Gusinje New York
Mithat Mujović, President of the Association "Sandzak Bosnia" – Austria
Šefadil Ličina, President of the Sandzak Diaspora Association (ZSD) – France
Dževad Skenderović, President of the Bosniak Cultural Community (BKZ) – Germany
Sinan Kurtanović,  President of the Sandzak Diaspora Association (ZSD) – the Netherlands
Elvir Bajrak, President of the Bosniak National Foundation (BNF) – Sweden
Ibiš Rešović, President of the HO "Sandžak" – Danmark
(For more info, please contact: bana.bossan@gmail.com)
New York – Berlin – Paris – Brüssel – Zürich – Wien – London – Stockholm, Ankara, Sarajevo, Novi Pazar
juli 2020.

Der Brief an UN, State Department USA, EU, der Regierungen Deutschlands, Großbritanniens Frankreichs, Schwedens, Österreichs, der Schweiz, Belgiens, Italie…
GERMAN

Verehrte Exzellenz,
wir als Unterzeichner dieses Schreiben und als Vertreter bosniakischer Organisationen mit Herkunft aus dem Sandzak und aktuell in Ländern Europas, USA und Canada lebend, wenden uns an Sie mit der Bitte um Ihre Hilfe bezüglich der dramatischen Nachrichten über die Ausbreitung des Coronavirus in den Städten Novi Pazar, Tutin und Sjenica mit überwiegend bosniakischer Bevölkerung.
Verehrte Exzellenz,
Die Corona-Pandemie hat die ganze Welt erfasst. Leider ist die Infektionsrate sowie die Sterberate sehr hoch. Wir bedauern jedes Opfer aufrichtig. Das Virus hat sich auch in den Balkanländern des ehemaligen Jugoslawiens ausgebreitet. In den letzten zwei Wochen sind die Infektionszahlen in den serbischen Städten Novi Pazar, Tutin und Sjenica explodiert. Die Lage ist alarmierend, da die Zahl der Infizierten von Tag zu Tag rasant steigt. Leider ist die Sterberate proportional zur Bevölkerung sehr hoch. Bisher wurden in nur zwei Städten zwischen dem 20. und dem 30. Juni 114 Tote registriert. Teilweise sterben drei oder vier Mitglieder einer Familie. Unter den Toten sind auch viele junge Menschen. Die Dunkelziffer dürfte um einiges höher sein, da es keine evidente Aufzeichnung gibt. In einer solch dramatischen Situation, in der das Gesundheitssystem zusammenzubrechen droht, versucht die Regierung Serbiens mit dem Präsidenten Aleksandar Vučić, der Premierministerin Ana Brnabić sowie ihren gehorsamen Ministern Rasim Ljajić und Zlatibor Lončar als auch das voreingenommene Krankenhausmanagement die eigentliche Lage und die tatsächliche Zahl der Infizierten, die sich täglich an das Krankenhaus für eine medizinische Behandlung wenden, zu vertuschen.
Aufgrund der fehlenden Ausstattung der Krankenhäuser, des Kapazitätsmangels, aber vor allem wegen unzureichendem medizinischen Fachpersonals steht das Überleben ganzer Familien in Frage.
Medizinische Experten aus Bosnien und Herzegowina haben ihre Hilfe angeboten und sich bereit erklärt, ihre Kollegen in Novi Pazar, Tutin und Sjenica im Kampf gegen Coronavirus zu unterstützen. Die Staatsführung Serbiens lehnte dieses Angebot aus dem benachbarten Bosnien und Herzegowina (!) ab, was den Verdacht aufkommen lässt, dass Serbiens Führung bemüht ist, die wahre Lage in diesen Regionen mit überwiegend bosniakischer Bevölkerung zu vertuschen.
In diesem Zusammenhang ist es einfach inakzeptabel, dass sich der Präsident von Serbien Aleksandar Vučić dennoch die Aussage erlaubt, dass "die Krankenhäuser in Novi Pazar besser ausgestattet seien als die Krankenhäuser in Deutschland".  Stattdessen kann man sich auf zahlreichen dramatischen Videos in den sozialen Netzwerken vergewissern, dass dies nicht der Wahrheit entspricht. Erkrankte liegen zum Teil sogar zu zweit in einem Bett oder auf einem Stuhl auf den Fluren, in den Speisekammern etc.
Es wurde festgestellt, dass zwei schwerkranke bosniakische Corona-Patienten aus Sjenica vom Gesundheitszentrum Užice abgewiesen wurden und kurz daraufhin starben. Regierungsmitglieder gaben an, es handele sich um ein Missverständnis. Nein, das kann kein Missverständnis sein, denn es ist ein Doppelmord und die Schuldigen müssen zur Rechenschaft gezogen werden! In einem Rechtstaat, in dem das Gesetz eingehalten wird, würden die verantwortlichen Personen sofort von der Staatsanwaltschaft und dem Gericht strafrechtlich verfolgt werden und man würde nicht von einem Missverständnis sprechen! Gleiches gilt für Todesfälle in Novi Pazar und Tutin.
In einer solch schwierigen gesundheitlichen Situation ist das nationalistische und chauvinistische Verhalten gegenüber kranken bosniakischen Patienten durch die Führung Serbiens mit Aleksandar Vučić an der Spitze unzulässig. Er – Aleksandar Vučić – ist der Öffentlichkeit von früher bekannt, als er die Drohung an die NATO richtete,  für jeden toten Serben einhundert Muslime zu töten. Im Westen hat man geglaubt, dass er mit seiner Kriegspolitik, ein Großserbien zu errichten, abgeschlossen hätte. Dem ist aber nicht so. Es ist ebenfalls bekannt, dass er während der genozidalen Aggression gegen Bosnien und Herzegowina in den Chetnik-Einheiten der Kriegsverbrecher Slavko Aleksić und Vojislav Šešelj auf dem Schlachtfeld bei Sarajewo aktiv war. Danach war er Miloševićs Informationsminster. Das bedeutet, dass er die Kriegsschule durchlaufen hat und sie jetzt perfider gegen die Bosniaken in Sandzak einsetzt.
Verehrte Exzellenz
Gottes Wort lehrt uns: "Wer ein Menschenleben rettet, rettet die ganze Menschheit". Im Namen der Menschlichkeit, im Namen aller Erkrankten fordern wir Sie dazu auf, über Ihre Regierungen und Botschaften dringend medizinische Hilfe und Fachkräfte nach Novi Pazar, Tutin und Sjenica zu senden. Gleichzeitig sollen Sie eine Kommission beauftragen, die Vorgehensweise der serbischen Regierung gegenüber der Bevölkerung der oben genannten Städte zu überprüfen. Ebenfalls sollen Sie die serbische Regierung dazu bewegen, die Hilfe medizinischer Experten, die aus Bosnien und Herzegowina, der Türkei und anderen Länder angeboten wurde, anzunehmen.
Möge Gott uns allen helfen das Richtige zu tun.
Hochachtungsvoll,
Muharem Purišić, dipl.ecc., President of the Bosniak American National Association (BANA)  USA
Dr. Emir Ramić, director of Institut for genocide research – Canada
Dr. Mersim Ziljkić, spokesman of the BANA – USA
Esad Krcić, director – editor Bosniaks / Bosnjaci.Net
Smajle Srdanović, Predsident of the Islamic Unity and Cultural Center Plav-Gusinje New York
Mithat Mujović, President of the Association "Sandzak Bosnia" – Austria
Šefadil Ličina, President of the Sandzak Diaspora Association (ZSD) – France
Dževad Skenderović, President of the Bosniak Cultural Community (BKZ) – Germany
Sinan Kurtanović,  President of the Sandzak Diaspora Association (ZSD) – the Netherlands
Elvir Bajrak, President of the Bosniak National Foundation (BNF) – Sweden
Ibiš Rešović, President of the HO "Sandžak" – Danmark
(Für weitere Informationen senden Sie bitte eine E-mail: [email protected])