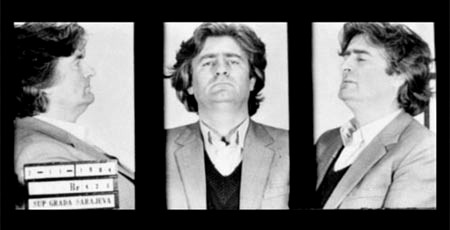 Former Bosnian Serb leader Radovan Karadzic, a top war crimes suspect, was arrested Monday in Serbia, the Serbian president and the U.N. war crimes tribunal for the former Yugoslavia said.
President Boris Tadic's office said in a statement that Karadzic was arrested on Monday evening "in an action by the Serbian security services."
Karadzic was indicted by the U.N. war crimes tribunal for the former Yugoslavia for genocide during the 1992-95 Bosnian war and had been hiding since 1998.
Serbia has been under heavy pressure from the European Union to turn over suspects to the international tribunal.
If Karadzic is extradited, he would be the 44th Serb suspect extradited to the tribunal. The others include former President Slobodan Milosevic, who was ousted in 2000 and died in 2006 while on trial on war crimes charges.
Karadzic was wanted on genocide charges for allegedly organizing the 1995 massacre of 8,000 Muslims in Srebrenica and other atrocities of the Bosnian war.
"I was informed by our colleagues in Belgrade about the successful operation which resulted in the arrest of Radovan Karadzic," the tribunal's head prosecutor, Serge Brammertz, said
"On behalf of the Office of the Prosecutor, I would like to congratulate the Serbian authorities, especially the National Security Council, Serbia's Action Team in charge of tracking fugitives and the Office of the War Crimes Prosecutor, on achieving this milestone in cooperation with the ICTY."
He added: "This is a very important day for the victims who have waited for this arrest for over a decade. It is also an important day for international justice because it clearly demonstrates that nobody is beyond the reach of the law and that sooner or later all fugitives will be brought to justice."
Karadzic was a fugitive from justice for almost 13 years. The first indictment against him was confirmed on 24 July 1995.
Karadzic, the former President of the Serb Republic, head of the Serbian Democratic Party and Supreme Commander of the Bosnian Serb Army, is charged with genocide, complicity in genocide, extermination, murder, wilful killing, persecutions, deportation, inhumane acts, and other crimes committed against Bosnian Muslim, Bosnian Croat and other non-Serb civilians in Bosnia and Herzegovina during the 1992-1995 war.
His indictment alleges that he, acting together with others, committed the crimes to secure control of areas of Bosnia which had been proclaimed part of the "Serbian Republic" and significantly reducing its non-Serb population.
On Saturday, Serb authorities turned over an ex-Bosnian Serb police chief, Stojan Zupljanin, who was arrested in the town of Pancevo last week after nine years on the run. A Belgrade court on Friday rejected his appeal against extradition and Zupljanin pleaded innocent Monday to 12 charges of murder, torture and persecution of Bosnian Muslims and Croats in 1992.
Zupljanin was charged with war crimes for allegedly overseeing Serb-run prison camps where thousands of Muslims and Croats were killed during the 1992-95 war in Bosnia.