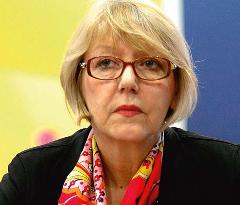 Sonja Biserko
Serbian Helsinki Committee President Sonja Biserko says that Kosovo independence is a reality in the region.
"Kosovo independence is a reality in the region, although what that independence will look like and what will be involved in that independence is something that has still to be defined by the Kosovo state, the government and the international community, which has a huge role here, and of course, it depends on how Belgrade will behave too," Biserko told an international conference in Priština.
The conference was organized by the European Initiative in Priština.
"Currently, Belgrade is the most negative factory, as it is interfering with the integration of the Serbs into Kosovo institutions," Biserko said, adding that there were differing stances on Kosovo independence within the Serb community in Kosovo.
"Serbs in the enclaves have, in a way, accepted the reality after independence. They have more criticisms for Belgrade and Kosovska Mitrovica than Priština. That should be used to open up positive space in this cooperation (between the government in Priština and the Serbs)," she said.
The Helsinki Committee president added that the Kosovo government should take advantage of Belgrade's policies, which had "left Serbs south of the Ibar river to slowly die out."
"Belgrade's policies towards Serbs in the enclaves have allowed them to die out slowly, because young people are leaving Kosovo, studying in schools in Serbia and staying there, while those remaining in the enclaves are left to die out biologically," Biserko noted.
She said that Priština officials should capitalize on these policies and do a better job of addressing the Serbs and be more present in specific projects, because it was in their best interests for Kosovo to remain a multi-ethnic society.