Dear Community Members and Allies,
We are a month away from the third annual Bosnian and Herzegovinian Diasporic Conference (BiHDC) taking place April 28-29, 2017, in Washington, D.C. We invite you to join us for a two-day event full of interactive presentations and workshops.
Gathering Bosnian and Herzegovinian Diaspora from across Canada and the US, BiHDC aims to build solidarity amongst this group based on multiculturalism, religious diversity and peace through education. This conference strives to create a space where Bosnian and Herzegovinian Diaspora can gather and develop an interdependent and flourishing community – because we are stronger together.
At BiHDC, we are creating spaces where not only is it possible to develop a dialogue amongst Diaspora about prejudice, it is also actively encouraged. Through this conference, we will continue to create a place where we focus on critical thinking about history, perceived norms and new ideas. With this groundwork, we wish to lay a foundation for a pluralistic and democratic discourse about Bosnia and Herzegovina within and between our communities.
Our theme this year, Reflecting on Then and Transforming Now, focuses on learning from our past as we take positive action in our present. We are very excited to announce our Featured Speakers for April 29th, 2017!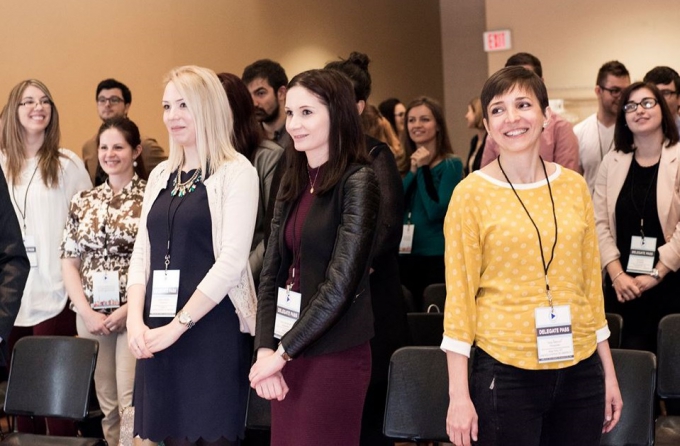 BiHDC 2017 FEATURED SPEAKERS
Public Engagement and the Importance of Advocacy
Ajla Delkić, Advisory Council for Bosnia and Herzegovina
Environmental Activism in Bosnia and Herzegovina
Samir Lemeš, Eko Forum Zenica
Reclaiming the Narrative: Being the Agent of Our Own Personal Story
Alma Begić and Tea Sefer
Documentary: "The Geography of Genocide in Bosnia: Redeeming the Earth" (2011)
David Pettigrew, Ph.D., Southern Connecticut State University
LGBTQ Issues in Bosnia and Herzegovina and Abroad
Tanya Domi, Columbia University | Dubravka Marić, Cincinnati PRIDE | Tea Sefer, GLSEN
Re-framing Refugees and Immigrants
Vanja Pantić Oflazoglu, Welcoming America | Lamija Grbić, Emory University
20 Years of Frozen Conflict: How to Revitalize the Education System in Bosnia and Herzegovina?
Jusuf Šarančić, Mostar Summer Youth Programme
Transforming Youth through Education and Technology
Vildana Bijedić, BiH Futures Foundation
How We Live, What We Eat, Where We Live is Where We Can Grow and Thrive
Danica Anderson, Ph.D., Kolo: Women's Cross Cultural Collaboration
It's Not Turkish Coffee but Bosanska Kahva!
Aida Šehović and Edina Škaljić, Što Te Nema
The Importance of Preserving the Bosnian Language Among the Diaspora
Nerina Sivonjić and Sanja Drnovšek Seferović
KEYNOTE SPEAKER
Harun Mehmedinović, Skyglow
This year BiHDC is being sponsored by the Bosnian-American Genocide Institute and Education Center (BAGI) and the Advisory Council for Bosnia and Herzegovina (ACBH). Additionally thanks to the support of ACBH, our conference this year will be only steps away from the White House and many other historical sites in Washington, D.C.
Join us! Conference registration can be completed through our evenbrite page. Registration fees cover lunch and conference materials. Student registration is $40 (+$3.19 service fee) and delegate registration is $75 (+5.12 service fee).
Make sure you book your hotel by Friday, April 7th, 2017 at the Grand Hyatt Washington in order to get our discounted rates! We have reserved a block of rooms for conference attendees at $195 (+14% tax) a night for a room with 2 double size beds and free Wi-Fi. Reserve your rooms soon, they run out quickly!
We cannot wait to collaborate with you!