Dear President, Ministers & Madam Ambassadors,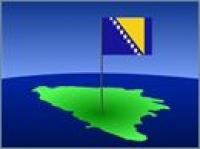 As a citizen of this great nation, The United States of America who identified himself with a long existence of the human race from the land of Balkans and most profoundly and with great pride with the ethnic identity as a Bosniak.
I am deeply concerned about the functioning body of the current government of Bosnia. What is it that makes these so called representatives and elected officials not able to see or feel responsible to do what they were elected for? To serve the people, instead their own self interest? In my adopted homeland, The United States of America, if anything above that I have mentioned had happened it would be considered as treason and that means automatic loss of the position that the one holds and the punishment for betraying public trust and the security of the nation. This are considered as high treason. I believe that the current Bosnian government is on the road of committing that treason, and that is a soul reason why I am addressing you. No single person should feel that he or she is bigger that the state of Bosnia, one that is elected to serve Bosnia and her people, one who does not understand the responsibility for keeping the nation healthy and safe does not deserve the position that he or she holds.
Bosnia is on the crossroad to be or not to be. Surly this is not the first time this has happened. And this is not because of ordinary citizens. This is soaly of incompetent government that can not distinguish or recognize were their duty and responsibility lies. I must remind us as we walk into the future we must recognize and distinguish clearly past and present, and that road into the twenty-first century perhaps I need to remind us that past is not the road to the future. The past is only a tool which should be used to understand the present and the future. With a present situation, in Bosnia we are no where near any one of them. Frankly I see us Bosniaks in the near future to exist only in the text of history books. Who will be held accountable if that happens? Ourselves, or the one that want the destroy us? The Srbs are determined to achieve a mission to eliminate Bosniaks once for all. Of coarse we have to lay down an die an pretend that won't happen. Just like we believed fifteen years ago but the massacre did happen because we believed our moral, authority in the former state of Yugoslavia would protect us. I have said that before that is not enough, and I am saying now. You all are making a grave mistake. By believing that somebody else will come in and clean your coral when it is dirty, and infested by intruders, what I mean by the Srbian republic. Prolonging the life of the Srb republic in the boundary of Bosnia is shortening the existence of Bosnia as a state. I ask myself what are we afraid of, and I ask you same question, honorable ministers.
Have you ever ask yourself the question that we have lost so much. Our existence is hanging on a thread as thin as the web of a spider. We better wake up and save ourselves. We should settle for nothing less than full, free, and secure homeland for all of the Bosniaks and all of the others that feel passionately for Bosnia as we do. We should not grant the right to no one to hold our future in there hands. We should be Sheppard's and the masters of our destiny. We have brought much beauty to the world and we should resist anyone who stands in the way to interrupt our way of life. Our journey has only begun it is all up to us how, where, and when our contribution to this beautiful world should grow as a internal flame of heavens, or should slowly fade and be forgotten. I remind you that statistics have never been a happy ending. Mr. Dodik has broken every rule of law and has betrayed every constitutional right as a head of state. There is only one Bosnian and cannot be any other and anyone who does not respect and understand those responsibilities he or she should be removed from the high office. There is enough evidence that this little peasant, Dodik without insulting the hard workingman. He should be triad for treason for instigating the division among the people in the state of Bosnja. Are we to allow one man alone just like his predecessors Slobo, and Karadjic and the gang of Cetniks who will do unthinkable raping and murdering of our women and children. I am asking you not to take a single moment for granted. We all know what happened to us and it will happen again. Bosnia as a nation should stand in her national boundaries, and nothing and no one should be having orgasm in her peoples expense again. You who represent and are elected at this time and are entrusted the power of the people to lead Bosnia to a better tomorrow. You must stand and you must be determined. You must not look and feel like a beggar. The notion of the beggar scares me it leads to hopelessness and despair, and the loss of respect, as a single individual and as a nation. Please do not allow this to happen. People are asking for your leadership so be a leader. We have made enough mistakes. We should be masters of our own homes and our own destiny we should stand and reach with our hand to uplift one who needs our help, but first, we must be able to earn the respect from our immediate families and that will lead to a farther and much broader recognition among the nations of the world. We should be firm and decisive with our neighbors. Srbs interference in the Bosian state affairs should not be tolerated there should be no other avenue of reasoning with Srbia. For us Bosnians is to speak softly and carry the big stick. Srbia should know that the capital of Bosnia is Sarajevo not in Beograd or Bajnaluka, Bajnaluka is the provincial capital in the state of Bosnia. This should stand as a test of time. Mr. President and dear ministers each day when you enter into you elected respected offices you are not only influencing your beginning of the day but your citizens as well and you are expected to deliver safety, prosperity and the liberty and justice that are yet to arrive to the Bosnjans. You must pave that road for the next generation. After all, you have all asked Bosnja people for the job. Remember when you volunteer you ask no question. You must fulfill you obligations.
I have asked my daughter she is 13 her name is Nadira Medina Koljenovic to sit and right for me this very personal letter to you. Although I will not hesitate to let you know why I asked her to participate. I want her to be aware and know that her roots of existence as a Bosniak girl is deep as Earth wide as the ocean and high as a Stratosphere and as strong as Mt. Everest, all of this will not save us if we ignore everything above in this letter.
Thank you for your time I mean not to offend anyone. It was only to bring awareness to the table, of the danger in the horizon we must strand united for Bosnia. No sacrifice is too much, I mean nothing, but making sure that we live and live healthy so we can nourish her future the Bosnja.
Sincerely yours,
Bayram Angelo Koljenovic