By ISABEL VINCENT, nypost.com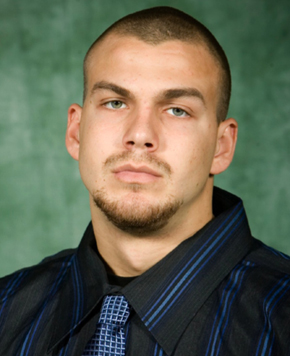 The wealthy parents of a hulking Serbian basketball player charged with viciously beating a Brooklyn student admitted they helped their son become an international fugitive by whisking him out of the country and back home because he had become a "scapegoat."
In the an exclusive interview with The Post, Miladin Kovacevic's psychiatrist mother, Branka, said she urged her 6-foot-9, 260 pound son to flee US authorities after he was bailed out "because it had become a media circus where his voice was not being heard."
His 6-foot-5 father, Peter Kovacevic, an orthopedic surgeon, said, "We feel he is a victim of small-town values ganging up against a foreigner. He was targeted because he was Serb and a very large man."
"He's a gentle guy and he was happy to go to America," his 6-foot-1 mother said. "He was on a full scholarship. He was scouted in Serbia to play basketball."
Speaking from their sprawling ranch house 1½ hours north of Belgrade, they were unsure about whether their son would return to face the music.
He might be "willing to return to the states to face the law" when the media circus – which they helped create – subsides.
They said Kovacevic, 20, is in the country but has gone into hiding because Serbian reporters have been camped outside their home.
"The authorities are not looking for him. He is not staying at home because it is a media circus here," Branka Kovacevic said.
Kovacevic was charged with pounding 130-pound Binghamton University student Bryan Steinhauer into a coma.
Steinhauer, 22, of Fort Greene, Brooklyn, was the victim of a vicious beating at a popular college bar on May 4.
Kovacevic's mother said she flew to Binghamton to be with her son while he was held on $100,000 bail. She said she lost close to 50 pounds because she was so worried.
They said they were proud that their son had gained entrance to an American university.
"We would have been happy if he had accepted American values and if after he had finished university he wanted to stay there," she said.
"We are sad that [Steinhauer] is hurt and we pray that he will get better and live his life to the best," she added.
Kovacevic was sprung loose from an upstate jail on June 6 when his parents sent the $100,000 to a deputy consul at the Serbian consulate in New York so he could post bail.
Serbian Deputy Consul Igor Milosevic, who is currently on the lam, is believed by US authorities to have then furnished Kovacevic with an emergency passport. That document replaced the one Kovacevic had surrendered to Broome County authorities enabling him to leave on a June 8 flight to Germany from Newark.
It took another two days for American officials to realize Kovacevic was gone.
But his parents say he never had to give up his passport and no special arrangements were made. It is not uncommon for Serbian nationals to also possess Croatian passports.
"His passport was never taken away from him and he came back on his own passport," his mother said. "The [Serbian] authorities in New York did not do anything that wasn't part of the protocol."
But a source familiar with the situation said Kovacevic was ordered to surrender his passport when he was bailed out with the strict instructions not to leave the country. The passport is currently in the hands of the Broome County District Attorney's office.
And the passport number used to buy the Lufthansa ticket that bought him was not the same as the one he entered the country with, the source said.
Sen. Charles Schumer yesterday pressed Secretary of State Condoleezza Rice to demand the Serbian government strip Milosevic's diplomatic immunity for allegedly helping Kovacevic skip the country.
"Helping Kovacevic sneak out the back door and evade justice is a despicable act and a violation of US and international law," Schumer said. "The State Department must move quickly to get to the bottom of what happened here and bring both of the possible criminals involved in this case to justice."
Both the FBI and Interpol have issued warrants for Kovacevic's arrest, but charging Milosevic would be difficult because he is protected by diplomatic immunity. His whereabouts were unknown yesterday, but a spokesman for Schumer said "in our mind, we have two fugitives on our hands."
The Consulate General issued a statement yesterday saying it was never their "intention that Mr. Kovacevic flee the country," but made no mention of Milosevic or his role in issuing the passport.
Meanwhile, more details emerged of the vicious beating the hulking Kovacevic – nicknamed Minja – and his two pals, Edi Dzubur, 24, and Sanel Softic, 21, allegedly unleashed on Steinhauer at Rathskeller bar in Binghamton.
Police say it all began when Steinhauer took a spin on the dance floor with one of the men's girlfriends at a "Studio 54"-themed party.
A teammate of Kovacevic, who did not want his name printed, said the men exchanged words, and then Steinhauer inexplicably sucker-punched Kovacevic in the back of the head.
"He turned and put him in a headlock, hit him twice in the head, and the guy was out cold. Then Kovacevic river-danced on his face," he said. "When the bartenders went to pick him off the floor, his teeth fell out of his mouth."
Kovacevic's father said the fight started when Steinhauer – who he says was drunk and stumbling around the bar – pinched the buttocks of Softic's girlfriend.
The elder Kovacevic said his son told him Softic took a swing at Steinhauer and that Kovacevic only stepped in to break it up.
"He didn't realize he had hurt the boy so badly, and he left," he said. "Why would a barroom fight become an international incident?"
Softic, however, said he "wasn't involved in the fight."
"I didn't touch the kid. I just got caught up in it," he said. "Minja, he is not my friend. I am Bosnian, he is Serbian. Our countries were at war. We speak the same language but the similarities end there."
"I'm pissed he left, too. I hope they catch him," Softic told The Post. "Him leaving makes us look bad. I read that that kid Bryan is getting better. I hope he is OK. I pray for him everyday."
Steinhauer remains in coma at a Long Island hospital, his father, Richard Steinhauer, said yesterday.
"There is hope he'll come out soon from the coma, but nothing is guaranteed," he said. "He still faces a very long rehab."
"My son is very sick. He is my only child," his mother said. "He was a very bright kid and he had a good future."
People who knew Kovacevic in Binghamton described him as intelligent and a bit of hothead who liked guns and cigars. One of Kovacevic's teammates – who also did not want his name printed – said the massive Serbian could bench press 350 pounds and squat 500 pounds.
"If you saw him, he was a monster," said one fellow student. "No one gave him a problem because of his size. He was huge."
Steinhauer, on the other hand, was a quiet honors student who never bothered anybody.
"He was the nerdy kid who sat in the back of the classroom and nobody really picked on because he didn't bother anyone," one classmate said.
A former classmate named Chris, who recently graduated, described Kovacevic as "a real a- -hole."
"He was really aggressive with the ladies," he said. "He is a terrible basketball player. They brought him on the team so that he could keep the star forward [another Serbian] happy."
In Binghamton, Chris said Kovacevic "was a constant fixture on State Street," where several popular college bars are located.
Kovacevic, who plays center, averaged 1.5 points per game in his freshman year but sat out last season with an injury. The other Serbian player has since transferred out of Binghamton.
Additional reporting by Carolyn Salazar and Austin Fenner in Binghamton, NY, Daphne Retter in Washington and Lukas I. Alpert, Peter Cox and Maura O'Connor in New York.