Dear President Macron,
It is out of respect toward the French nation that I address you, with expressions of esteem, as a symbol of the French Republic. Otherwise, you do not deserve respect since you either consciously or unconsciously herald the end of the era of the universal values:
liberté, égalité, fraternité  – liberty, equality, brotherhood, and usher the era of esclavage,
discrimination, fratricide – slavery, discrimination and fratricide. It is still not too late to seriously consider and realize that it is not the step forward into the future in Europe but rather a step backward into the past, just as it is for the whole world.
As the descendants of the "Good Bosnians" – "Bono Homini", we in Bosnia have the knowledge and the remembrance of the Cathar Crusade, or the Albigensian Crusade of 1209-1229. The Bosnian Christians had a connection to the Cathar Religion. They also knew where the French village Montaillou was, of which the French historian Emmanuel Le Roy Ladurie wrote the book "The Promised Land of Error" in 1978. We remember the words: "Kill them all, God will recognize his own". We remember the "Bartholomew Night", or the "Bloody Parisian Ball" of 1572. We thought that the path of return to those times was closed. However, ever since the Serbian genocide, we Muslim Bosniaks in Bosnia are careful and sensitive to every sound, every sign, every word which smells of the Albigensian Crusade and the "Bartholomew Night". Even more so, when it comes from you as the French President of whom we thought that he had inherited the glorious values of the French Revolution, which revolution motivated the whole world to embark upon the path of humanism, renaissance, education, democracy and human rights, based upon the principles of freedom, equality and brotherhood –  (liberté, égalité, fraternité).
 Regrettably, dear President Macron, we have been disappointed in you. Is there a need to constantly repeat that we, as Muslims, unequivocally condemn the killing of Mr. Samuel Paty, the French professor of history, as well as the killings of the three persons at the Notre Dame church in Nice? Those acts were depicted as "Islamic terrorism". That is the easiest way for the politicians and the media to characterize it. Everything that is wrong in this world of ours today can be, shamelessly, attributed to Islam and Muslims, from the Uyghurs in China, to the Rohingya in Myanmar, to the Kashmiris in Kashmir, the Palestinians in Gaza, and on, and on. There are those who understand how it is for the Muslims today to live under such accusations, they are brothers and sisters Jews who survived the Holocaust in Europe. They best understand what happened in Bosnia following the false promise of "Never again! Nie wieder! Never again! Plus jamais!" This photograph says everything:
This photograph speaks of the joint experience of the Bosnians and the Jews in Europe in the twentieth century:
Dear President Macron, I thought, as a European Muslim, that it was about an unintended error – attributing terrorism to Islam. Now I am, though, convinced that it is not about an unintended error, but it is about an intended need of depicting Islam as being the scourge of terror in Europe, as the heresy, the likes of the Cathar heresy in Montaillou. Further, I am even more convinced now that the bloody attacks occurring under mysterious conditions in Europe are, in fact, a premeditated plot against Islam and Muslims. The public is not privy to the faces of the attackers, dead or alive, but the vloices are reportedly heard of "Allahu Akber" – which could have come from the attackers, or which could have come from somebody else. One thing is certain, though – not one normal Muslim would have committed something like that. That could have only been committed by an outcast of Islam, a "murtat", who is intent upon harming Islam and Muslims, the one who is intent upon frightening Muslims away from Islam and who is intent upon causing ire and revenge. Therefore the act of a murtat can not be described as "Islamic terrorism". That is the Lucifer's terror which has neither the religion nor the nationality. Anders Breivik, who, before the eyes of the world, killed sixty nine young women and men, insisting he was doing it in the name of Jesus, was not proclaimed a "Christian terrorist", but rather a madman who needed mental care. Radovan Karadzic, who, in the name of the Serbian "Sveti Sava" committed genocide against the Bosniak Muslims  in Srebrenica, for which he was sentenced to life in prison, was not described as the "Orthodox terrorist" but rather a war criminal.
President Macron, we, Bosnian Muslims, have both the right and the obligation to advise you, in the name of Islam and the European Muslims, of the parallels of the horrific and real scenes of the Holocaust and the horrible psychopathic creatures of the Charlie Hebdo magazine about the Serbian genocide against my Bosnian people in Bosnia.
The first scene of the Holocaust:
The first creation of the Charlie Hebdo about the Serbian genocide in Bosnia: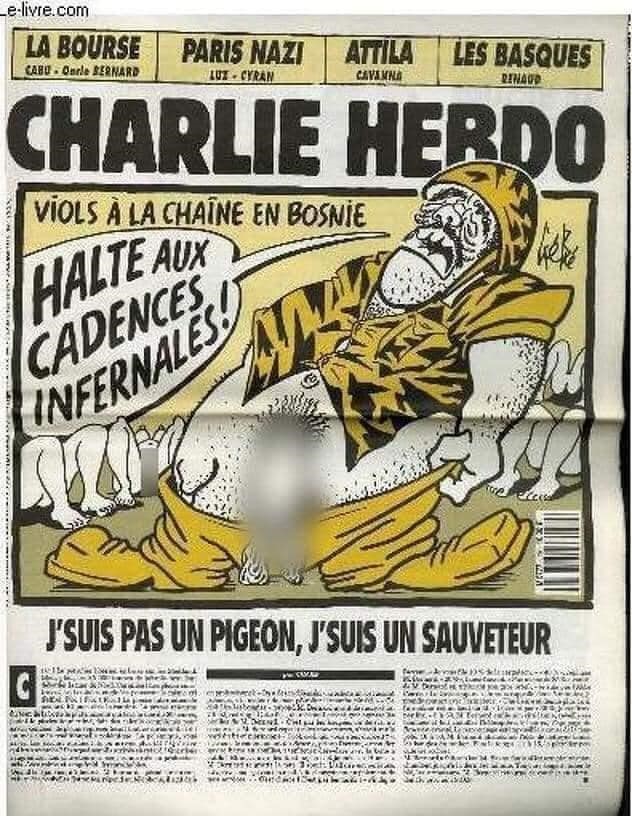 Since you take an oath to your value of the freedom of expression, President Macron, you have seen and read this creation of your beloved Charlie Hebdo, which you protect because it symbolizes the culture of your liberté and laicité against Islam and Muslims who, just like the Jews were stigmatized, are generally accused of terrorism in Europe. In this photograph, this caricature, President Macron, your Charlie Hebdo glorifies the Serbian mass rape of my Bosnian sisters with the Lucifer's message: "Stop with the hard working conditions". Not a single Bosnian had attacked or killed anybody in Paris or Nice. Why, then, are the Bosnian mothers and sisters deserving of being dehumanized by your "freedom of expression" while being innocent victims? Area you able, Macron, to imagine how we in Bosnia feel when looking at these creations? Horrible! Your "freedom of expression" can go to Hell, as well as your laicité, which is killing our Bosnian souls! Isn't it a sign, President Macron, that in Paris, the cradle of the good sense, the end has come to the era of good behaviour which was marked by the values of liberté, égalité, fraternité?
The second scene of the Holocaust:
The second caricature, of the Charlie Hebdo, of the Serbian genocide in Bosnia:
Does this, President Macron, represent the freedom of expression of your Charlie Hebdo? The caricature of the limbs and organs of the dead civilians following the bombardment of the cities when your beloved one says: "Christmas is already in Bosnia", and the inquisitive youth points to a penis and says: "I have asked for this of the Santa Claus". Mr. Macron, are you able to sleep peacefully, after you have seen and read again this libertarian caricature of your beloved Charlie Hebdo, and then speak of Islam threatening your cultural and civilizational values? Is this your culture and your civilization? The feverish derangement over the bodies of the dead Bosniaks – for Christmas at that? In Bosnia we say: "jazuk"! Dommage!
The third scene of the Holocaust:
The third creation, of the Charlie Hebdo, of the Serbian genocide in Bosnia: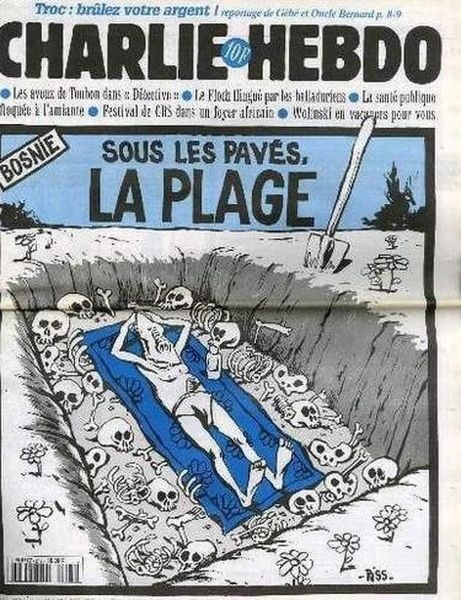 President Macron, isn't this a sickness of the mind, which is more dangerous and more contagious than the lung sickness caused by the Corona virus? You must open your eyes and look straight into the face of the truth! You must, Macron, wake up from your dark dream, which dream does not allow you to see that the problem is neither in Islam nor in the Muslims, but that the problem is in the dark minds which cast umbra upon our minds and vision so we can't see one another clearly. This darkness is leading all of us backwards into the dark ages of the witch hunt, of the inquisition of the Cathar heretics, to the bloody masquerade of the Bartholomew Night. We know that is which you do not want, yet we don't know why you would not openly and unequivocally say it. Say to us, clearly and precisely, whether you still believe in the principles of: liberté, égalité, fraternité? Or whether you have abandoned them, abandoned them in the name of the freedom of a sick mind which spreads hatred of Islam and Muslims not only in France but in Europe and the rest of the world as well? Tell us, if you have the courage, in the spirit of your right to freedom of expression and sane mind.
Be that as it may, President Macron, I want you to know that we are, nevertheless, grateful to you for you have, like never before, unified the global Muslim Ummah, from Riyadh, Tehran, Istanbul, Cairo, Islamabad, Jakarta, Rabat, all the way to Yemen and beyond. They have all stood up, in a day, to defend the honour of Islam, and the prestige of the Allah's Messenger, and the pride of over a Billion of Muslims throughout the world. Those, who thought that the Ummah had no global shield in the Caliph, now know that the Caliph is the force in the one, the unifying, and the invincible global Muslim Ummah. The Charlie Hebdo contributed to that. And that should not surprise us. The Allah's Messenger said: "Allah will revive this religion through a corrupt individual" – (Inna Allahe lajūlidu hadha al-dīne bi al-radžul al-fādžir, Sahihani).
In closing, dear President Macron, please allow me to send you best regards from my Bosnia and wish you to liberate yourself from the stupidity and hatred of the Charlie Hebdo, which publication is fundamentally opposite to the freedom of expression of a sane mind. The Charlie Hebdo is the embodiment of infectious contagion of a sick mind, the contagion which needs a vaccine to prevent the spread of the disease. The sooner, the better. Until then let us be responsible, wear masks, and keep at distance from a disease which kills sane minds and healthy brains.
With expression of respect, please accept, again, my Bosnian selam!
Mustafa Ceric, Ph.D.
Raisu-l-ulama and Chief Mufti of Bosniaks (1993-2012)
—————————————————————-
Turkish / Türk
FRANSA BAŞBAKANI MACRON'A AÇIK MEKTUP
 31.10.2020
Sayın Başbakan Macron,
Fransız Ulus'una saygımdan ötürü Fransa Cumhuriyeti'nin itibar sembolü olarak size hitap ediyorum. Gerçi siz, evrensel değerler çağının sonunun bilinçli veya bilinçsiz olarak habercisi olduğunuz için aslında bu saygıyı hak etmiyorsunuz ama…
liberté, égalité, fraternité – özgürlük, eşitlik, kardeşlik ve kaçış çağının başlangıcı…
discrimination, fratricide – kölelik, ayrımcılık ve kardeş katli… Bunun tüm dünyada olduğu kadar, Avrupa'da da geleceğe değil, daha ziyade geçmişe doğru bir adım olduğunu ciddi olarak düşünmek ve anlamak için hala çok geç değil.
"İyi Bosnalılar-Bono Homini'nin torunları olarak, Bosna'da 1209-1229 arası Kathar veya Albigeois Haçlı Seferi'nin gerçekleri ve anıları belleğimizde hâlâ tazedir. Bosna Hıristiyanları Kathar Dini mensubuydu. Fransız tarihçi Emmanuel Le Roy Ladurie'nin 1978 tarihli  "Hata'nın Vaad Edilmiş Toprakları" kitabında yazdığı Fransız köyü Montaillou'nun yerini de biliyorlardı. "Hepsini öldürün, Tanrı kendi kullarını tanıyacaktır." sözleri de dün gibi aklımızda. 1572'deki "Bartalmay Katliamı" veya "Kanlı Parizyen Balosu"nu da hatırlıyoruz. O günlere dönüş yolunun kapandığını sanıyorduk. Ancak, Sırp soykırımından bu yana, Müslüman Boşnaklar olarak, Albigeous Haçlı Seferi ve Bartalmay Katliamı gibi kokan her ses, işaret ve kelimeye karşı çok dikkatli ve hassasız. Hele de tüm dünyayı özgürlük, eşitlik ve kardeşlik ilkelerine dayalı hümanizm, Rönesans, eğitim, demokrasi ve insan hakları yoluna çağıran Fransız Devrimi'nin şanlı değerlerinin mirasçısı olduğunu düşündüğümüz Fransız Cumhurbaşkanı olarak sizden geldiğinde…
Ne yazık ki, bizi hayal kırıklığına uğrattınız Sayın Başbakan Macron. Müslümanlar olarak, Fransız tarih profesörü Bay Samuel Paty ve Nice Notre Dame kilisesinde üç kişinin öldürülmesine dair sürekli suçlandığımızı tekrarlamaya gerek var mı? Bu eylemler "İslam Terörü" olarak anılıyor. Siyasiler ve medya için bu, tanımlamanın en kolay yolu. Çin'deki Uygurlardan, Myanmar'daki Rohingya'ya, Keşmir'deki Keşmirlere, Gazze'deki Filistinlilere kadar, bugün dünyamızda yaşanan her yanlış şey için utanmadan İslam ve Müslümanlar suçlanabiliyor. Bugün Müslümanların bu tür suçlamalar karşısında hissettiklerini ancak Avrupa'daki soykırımdan sağ kalan Yahudiler kardeşlerimiz anlayabilir. Tutulmayan şu sözü takiben Bosna'da yaşananları hissedebilirler: "Bir daha asla! Bir daha asla!" Fotoğraf her şeyin kanıtı.
Bu fotoğraf Boşnaklar ve Yahudiler 'in 20. yüzyılda Avrupa'daki ortak tarihinin anlatıyor:
Sayın Başbakan Macron, Avrupalı bir Müslüman olarak, terörü İslam'la bağdaştırmanın kasıtsız bir hata olduğunu düşünürdüm. Artık bunun, Montaillou'daki Kathar sapkınlığı gibi, Avrupa'daki terör belasının kaynağı olarak bilhassa İslam'ı suçlama isteğinden doğduğundan eminim. Hatta Avrupa'da sırlarla dolu kanlı saldırıların aslında, İslam'a ve Müslümanlara karşı önceden tasarlanmış komplolar olduğuna artık ikna oldum. Halk, ölü ya da diri saldırganların yüzlerini tanımıyor ama saldırganlardan ya da başka birilerinin ağzından çıkmış olabilecek "Allahu Akber" seslerini duyduğunu söylüyor. Kesin olan tek şey var, hiçbir "normal" Müslüman böyle bir şey yapmaz. Bu, ancak İslam'a ve Müslümanlara zarar vermeye, onları İslam'dan soğutmaya niyetli, öfke ve intikam peşine düşmüş dışlanmış "mürted"lerin işi olabilir. İşte bu yüzden bir mürtettin eylemi "İslam Terörü" olarak adlandırılamaz. Bu, dini veya milleti olmayan Şeytan'ın işidir. Dünyanın gözü önünde 69 genç kadın ve erkeği, İsa adına öldürdüğünü söyleyen Anders Breivik, "Hıristiyan terörist" olarak değil, psikolojik tedaviye ihtiyacı olan bir deli olarak ilan edilmiştir. Srebrenica'da Boşnak Müslümanları katleden ve müebbet hapse çarptırılan "Sırp Kasabı" Radovan Karadzic, "Ortodoks Terörist" değil, savaş suçlusu olarak adlandırılmıştır.
Başkan Macron, Bosnalı Müslümanlar olarak, İslam ve Avrupalı ​​Müslümanlar adına soykırımın korkunç ve gerçek yüzü ile Bosna'daki Bosna halkıma karşı Sırp soykırımına ait Charlie Hebdo dergisindeki karikatürlerdeki cani psikopat yaratıkların ortak yönlerini göstermek hakkı ve sorumluluğuna sahibiz.
Soykırımın ilk görüntüsü:
Charlie Hebdo'nun Bosna'daki Sırp Soykırımı'na dair ilk karikatürü: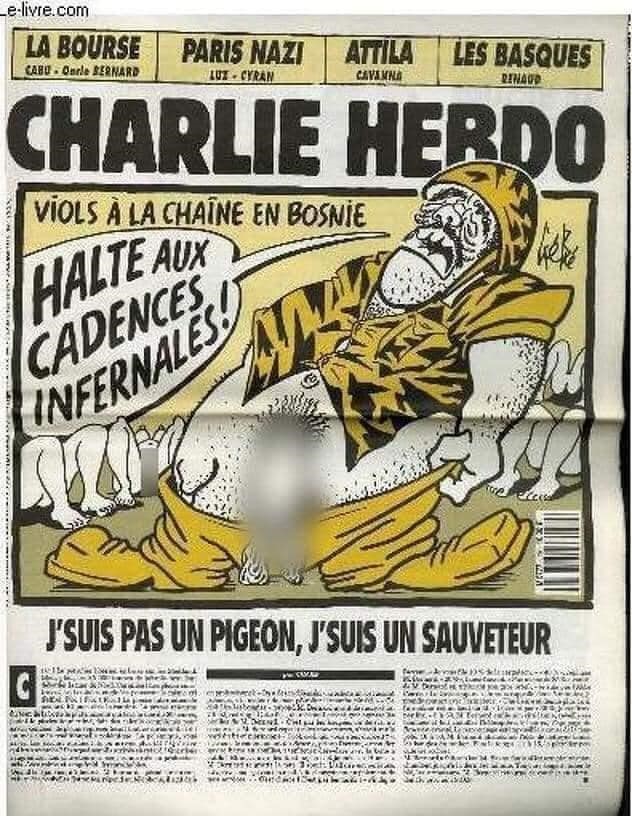 İfade özgürlüğünün önemi üzerine yemin ettiğinize göre, Avrupa'daki terör eylemleri için suçlanan, Yahudiler gibi damgalanan İslam'ı ve Müslümanlara karşı, özgür ve laik kültürünüzün simgesi olduğu için koruduğunuz Sevgili Charlie Hebdo'nuzun bu karikatürünü görmüşsünüzdür Sayın Macron. Bu karikatürde Charlie Hebdo'nuz Şeytan'ın "Kötü Çalışma Şartlarına Son." yazısıyla Sırpların, Boşnak bacılarıma toplu tecavüzünü yüceltmektedir. Tek bir Boşnak, Paris veya Nice'ta kimseye saldırmamış veya öldürmemiştir. Öyleyse masum kurbanlar olan Boşnak anneler ve bacılar "ifade özgürlüğünüz" tarafından insanlıktan çıkarılmayı nasıl hak eder? Bu karikatürleri gören Bosna'nın hissettiklerini hayal edebiliyor musun Macron? Korkunç bir şey bu! "İfade Özgürlüğünüz"ün canı cehennem, Bosna'da ruhlarımızı katleden laikliğinizin de! Bu, sağduyunun beşiği Paris'te özgürlük, eşitlik, kardeşlik değerlerinin damgasını vurduğu hoşgörü çağının sona erdiğinin göstergesi değil midir Başbakan Macron?
Soykırıma ait ikinci görüntü:

Charlie Hebdo'nun Bosna'daki Sırp Katliamına ait ikinci karikatür:

Charlie Hebdo'nuzun ifade özgürlüğü bu mudur Başbakan Macron? Şehirlerin bombalanmasının ardından ölü sivillerin uzuv ve organlarının resmedildiği karikatürde sevgili vatandaşlarınızdan biri: "Bosna'ya Noel gelmiş bile." derken, meraklı bir çocuk penisi gösterip "Noel Baba'dan bunu dilemiştim." diyor. Sevgili Charlie Hebdo'nuzun özgürlükçü bu karikatürü okuduktan sonra İslam'ın kültürel ve medeni değerlerinizi tehdit ettiğini söyleyip yatağa gittiğinizde geceleri rahat uyuyor musunuz? Kültürünüz ve medeniyetiniz bu mu? Noel adına hummalı bir çabayla ölü Boşnak bedenlerin parçalanması mı? Bosna'da biz buna: "Yazık"! Dommage!" deriz.
Soykırımın Üçüncü Fotoğrafı:
Charlie Hebdo'nun Bosna'da Sırp Katliamına dair üçüncü karikatürü: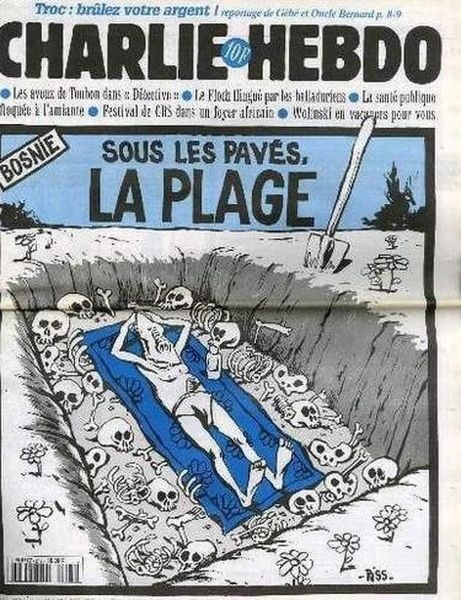 Bu, Corona virüsünün neden olduğu akciğer hastalığından daha tehlikeli ve bulaşıcı bir akıl hastalığı değil mi Başbakan Macron? Gözlerinizi açmalı ve gerçeklerle yüzleşmelisiniz! Sorunun ne İslam ne de Müslümanlar olmadığını, asıl sorunun zihnimiz ve gözlerimize gölge düşürüp birbirimizi net görmemizi engelleyen karanlık beyinler olduğu gerçeğine engel olan karanlık rüyanızdan uyanmalısınız. Bu karanlık hepimizi cadı avının karanlık çağlarına, Kathar kâfirleri engizisyonuna, Bartholomew Gece'sinin kanlı maskeli balosuna götürüyor. Bunu istemediğinizi biliyoruz, ancak açık ve net olarak niçin dile getirmediğinizi anlamıyoruz. Açıkça ve kesin olarak hala özgürlük, eşitlik, kardeşlik ilkelerine inanıp inanmadığınızı söyleyin bize.
Yoksa onları sadece Fransa'da değil, Avrupa ve tüm dünyada İslam ve Müslüman nefretini yayan hastalıklı beyinlerin özgürlüğü adına terk mi ettiniz? Cesaretiniz varsa, aklı başında bir zihnin ifade özgürlüğü adına söyleyin.
Riyad'dan, Tahran, İstanbul, Kahire, İslamabad, Cakarta'ya, Rabat'tan Yemen ve ötesine kadar küresel Müslüman Ümmeti birleştirdiğiniz için size şimdiye kadar hiç olmadığı kadar minnettarız Başbakan Macron. İslam'ın onurunu, Allah'ın Resul'ünün prestijini ve dünyadaki bir milyardan fazla Müslümanın şerefini korumak için hepsi bir günde ayağa kalktı. Ümmeti koruyacak küresel bir kalkan olmadığını düşünenler, Halife'nin, küresel Müslüman Ümmet içindeki tek, birleştirici ve yenilmez güç olduğunu artık öğrendi. Bunda Charlie Hebdo'nun katkıları büyüktür. Ve bu bizi hiç şaşırtmamalıdır. Allah'ın Resulü der ki: "Allah bu dini yozlaşmış bireylerin üzerinde yeniden yükseltecek." (Inna Allahe lajūlidu hadha al-dīne bi al-radžul al-fādžir, Sahihani).
Sonuç olarak, Sayın Başbakan Macron, lütfen size Bosna'mdan en iyi selamlarımı göndermeme izin verin. Dilerim kendinizi Charlie Hebdo'nun aklı selim bir zihnin ifade özgürlüğüne temelde zıt düşen yayınlarının aptallığı ve nefretinden kurtarırsınız. Charlie Hebdo, salgının yayılmasını önleyecek aşıya ihtiyaç duyan hastalıklı bir zihnin ürünüdür. Zararın neresinden dönülürse, kârdır. O zaman kadar aklı başında zihin ve beyinleri öldüren bu hastalığa karşı maske takma ve uzak durma sorumluluğu hepimizindir.
Saygılarımla, Bosna'mdan selamlar!
Dr. Mustafa Ceric,
Bosna Hersek Eski  Reis-ûl Uleması