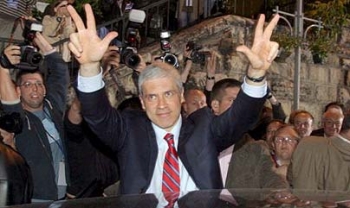 Yea, I am not a Bosniak Leader, but still…
Mister Tadic,
On behalf of my family, I am apologizing to you that Chetniks killed my father, I am so sorry!
I sincerely apologize, Mister Tadic, for a disappearance of my uncle [dajdza], too.
I am apologizing for my youth, spent between walls of the dark vault, sorry.
I am apologizing, Mister Tadic, for my two onsets of pneumonia and then asthma, incurred in the above mentioned vault.
I am apologizing for my youth, because as a boy, a few days before war aggression/Sarajevo siege started, I waved to the soldiers in the olive-green military trucks, and they would flash/raise three fingers?!
I thought that those three fingers were connected to the three capital letters on the military trucks: JNA [abbreviation for "Yugoslav People's Army"] ! What could I know.
I am apologizing for my youth, Mister Tadic, sieved by the pieces of missiles from the mortars, VBRs [Multiple Rockets Launchers], recoilless artillery guns, and tanks, all of which displaying those same, distinct three capital letters: JNA.
I am also apologizing for my memories, Mister Tadic, whereas instead of memories of eid holiday festivities, merry-go-rounds/carousels, and, if You wish, New Years' gift boxes, I remember men and women, grandma's and grandpa's, guys and gals killed by sharpshooters from Nedzarici ['92-'95 notorious Serb-hold suburb of Sarajevo] while they carried containers with water from the hydrant in front of the "Oslobodjenje" ["Liberation", Sarajevo daily] building.
I am apologizing for my memories, whereas instead to remember new episodes of "Nadrealisti" ["Surrealists", popular pre-war TV satire/all-out-mocking show] with "Djuro", "Siber", and that idiot "Nele", or to remember chocolates, snowball plays in winters or summer holidays at Adriatic Sea beaches, I remember PRAHAs, PAMs, PATs [military armoured artillery], death-sowers Karadzic, Mladic, Arkan and his "Tigers", "White Eagles" and what-who-not hayvans [bestial inhumans].
I am apologizing for my memories,
whereas instead to remember sleddings on Bjelasnica [mountain, cf. '84 Winter Olympic Games] coached by my father, I remember Markale and morning "gusle" fiddling and singing about "Straze djenerala Draze …" ["Sentries of general Draza …", Draza Mihailovic, top WWII Serbian Nazi-Fascist collaborator Chetnik's genocidal WWII criminal, slaughtering 8% of Bosniaks in '41-'45 ] while on the other side of the City I remember what happened at Kovaci …
I am apologizing for my memories, whereas instead to remember going out to movie theatres, biking and all sorts of "ziyans" [kid's mischiefs] I remember Srebrenica, Risto Djogo [notorious Karadzic/Mladic et al TV Anchor] when we had electricity,
and so bony, emaciated Senad Hadžifejzović [BiH TV] – may Almighty God bless him.
I remember, Mister Tadic, boiling collected rain and melting snow in order to drink water.
I remember, Mister Tadic, and would love not to…
But here it is, I am apologizing for my "crimes"!!!
And given how many of us are like this, and yet those additional "sinners", I do not know how You will ever be able to forgive us …
P.S.
Here, now and my neighbour Boris, Your namesake, who spent war aggression/Sarajevo siege at Chengic Vila, is also apologizing to You.
Edin Begović