Readers of Daily newspaper 'San'-one of the three newspapers with highest circulation in the Federation of Bosnia and Herzegovina chose Amer Bukvic, CEO of Bosna Bank International as 'Person of the Year 2010'.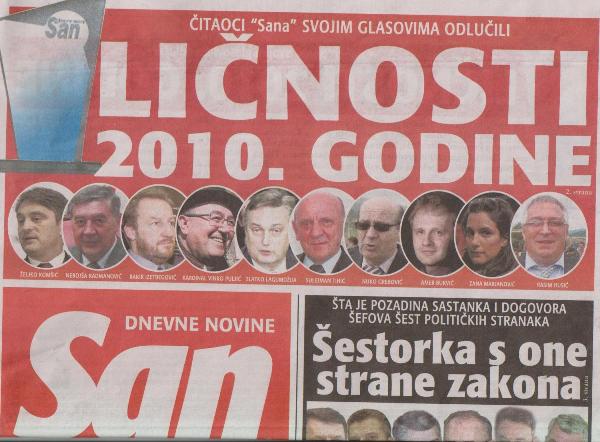 Print media in Bosnia and Herzegovina every December select a number of people from different walks of life who made substantial contribution to the society in past year.
Readers of 'San' newspaper selected 10 persons who have made remarkable positive deference to the society in 2010. In the explanation of their choice for choosing Mr. Bukvic, the New Year issue of the San newspaper states the following:
"Thanks to Amer Bukvic, CEO of BBI Bosnia and Herzegovina this year reached the list of positive news. Mr. Bukvic with his BBI team spent several years preparing the ambitious project of the Sarajevo Business Forum which realization changed the image of Bosnia and Herzegovina in large measure. At this International Investment conference more than one hundred concrete business projects was presented from economic fields as diverse as energy, agriculture, tourism and infrastructure. The Forum was an eye-opening event demonstrating that in this country has good developmental projects which were well received by international investors and businessmen alike. Amer Bukvic and his team are currently working on the preparations of SBF 2011 which will be held in spring 2011. Mr. Bukvic's business ideas can be summarized in one of his sentences:
'We can and we will make Sarajevo into an attractive regional centre for foreign investments.
'This prestigious recognition, besides BBI's Chief executive officer Amer Bukvic, has also been awarded to Bakir Izetbegovic, Zeljko Komsic and Nebojsa Radmanovic, Members of the Presidency of B&H, Archbishop Cardinal Vinko Puljic, Dr. Zlatko Lagumdzija, President of Social Democratic Party, Nuko Grebovic director of Funeral Service (KJKP), actress Zana Marjanovic and Rasim Husic, director of the Municipal agricultural cooperative from Gracanica.
The Awards presentation ceremony will be held in mid January 2011.