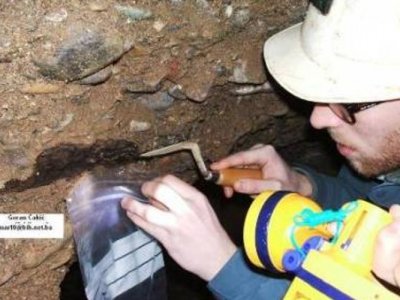 Amir Moustafa left Visoko today after six days of hands-in-the-ground research, gathering material for a cover story in the university historical newspaper he helped to found, Roots. In these six days he was everywhere, talking to experts and locals, shooting film of the pyramids and people on them, even finding two fossils during a day of volunteer digging on the Pyramid of the Moon. He returns to Cairo where he studies at the American University, majoring in political science with a minor in economics and environmental science.
On the evening before his departure, I talked with Amir in the hotel lobby where we both stay. He is engaging and exuberant and reminds me of my college days. Following is an excerpt from the night's conversations.
What gave you the idea to do this story?
I proposed it for the front page [How did you hear about it?]. I heard about it on CNN a couple of months ago… I don't remember who the correspondent was, but they basically came here and they filmed Semir, and they filmed other people around, and then I was interested, I was hooked – pyramids in Bosnia, that's an issue. I kept it in my head, I checked the website from time to time, just to see the progress, and then when we came up with the idea of making the newspaper… when we came together to figure out what we'd put on our front page – it's really important, it's the first edition, people don't have to read the paper, but they will see the front page and what's on the front page and the headline – I said, "How about Pyramids in Bosnia, exclamation mark, what do you think about that?" They said, "Oh, very interesting, pyramids in what? No way!"
I contacted the foundation through Miho, who directs the website, Bosnianpyramids.org. He wrote back and said that he forwarded my message to Semir, gave me the information I needed… From then on, nobody came up with a better idea. I said, "Fine, let me take the front page, I think I may be able to go, I'm just waiting for a reply." Semir replied a week later, saying, "The food, the accommodation, the local transportation is all on me." I said, well, that's a sign if ever, and that's it.
Of course I got excellent, on-the-spot reporting, everyone else is reporting based on the information they can gather where they are, but this is way too important.
When Miho asked me to call Dr. Zahi Hawass, I said sure. Three weeks of fruitless calling… The number's either busy, or it rings and no one answers. One time a secretary answers, she's yelling at someone else or whatever… it turns out it wasn't even the right number and there's only one number.
Miraculously, two days before I leave, I call and the secretary picks up. "Hi, I'm from the American University in Cairo, people in Bosnia want to know, as well as I do for my report, what Zahi thinks." She says, "Okay, call tomorrow morning." Tomorrow morning: "Oh, he has meetings, meetings, meetings…" I thought, that's probably it, I'm going to go without the interview. Then around 4 or 5 I call and he answers, he says, "Amir, hurry up, I'm busy!"
"What do you think about the pyramids in Bosnia? I'm going."
"You're going to Bosnia because of the pyramids?" I said yeah. "Oh no, no, there are no pyramids there, only a bunch of rocks, and I'll send you my official statement."
I asked, "Are you going there yourself?"
He said, "No, but I will send someone over there, an official."
Did you ask him about the Egyptian delegation that was here?
I didn't know… But it seems like, because he's sending an official, he doesn't recognize them, or he would have taken it… Lamia El Hadidy is not part of the SCA, the Supreme Council of Antiquities, which is like the Jedi school, the authority for archaeology, so the authority from the SCA is supposed to come, and that's final for him.
What's been your impression of the pyramids?
That's an interesting question, one I've heard two times before on two different interviews. The answer is, well, you have two viewpoints, one, [some] geologists say it's completely natural, the other were the locals and some archaeologists who say, no it's not natural, they are man-made. I say you can't rule out that there might be man-made structures within the vicinity of the pyramids.
The tunnels which have been found… Geologists say they're just the beginning of caves, it's a natural process, you can even find stalagmites. Others say no, they're artificially built. I say maybe they're both, maybe they're the beginning of natural caves exploited by man, to build shelter or storage. I'm not expert enough to judge.
How was digging yesterday?
Well, I found two fossils [of leaves.] I'm very proud of myself. And then a group of university students from the University of Sarajevo, they came and they found three. But they found them where I was digging, they asked, "Where did you find the fossils?" "Right here." They said, "Come with us, we're going to dig."
And what they did, instead of digging vertically, destroying the fossils, they dug horizontally, using their hands.
How is the story taking shape?
[I feel] connected with the people. And you know this thing is really helping them out. You know one viewpoint, you know the other. You're leaning towards one, maybe towards the other. You want to do the right thing.
I'm going to let it rest in my head, but so far I'm thinking about writing about the effects of the site on the town, and how the village is viewing this hope – I use the word hope because that's what rings in my head. www.bosnian-pyramid.net