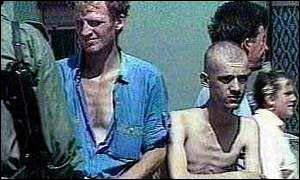 Several hundred former detainees from Prijedor and their families have gathered in Omarska to commemorate August 6th, the day when the disassembly of this camp began 18 years ago.
Representatives of victims and families of the killed once more reminded of the initiative to build a Memorial Center in Omarska.
According to verdicts of the Hague Tribunal, at the end of May 1992 Serb forces in Prijedor formed the Omarska, Keraterm and Trnopolje camps. Omarska camp was placed near the former coal mine in the Omarska village. During its work, more then 3000 detainees were held there, and a third was killed.
All three camps were closed at the end of August 1992 under pressure from the International community, and the disassembly of Omarska started on August 6th.
The site of the camp, which consisted of hangars, the management building and the so-called white and red houses, is owned today by Mittal Steel mines. The Prijedor residents started an initiative in 2004 to build a Memorial center in the White house.
At the commemoration of the 18th anniversary for killings in Prijedor, Fatima Fazlic president of the "Association of Prijedor women – Izvor" said they will ask for the entire Mittal Steel facility, and all four buildings where Bosniaks and Croats were held, to be turned into a Memorial center.
The initiative was supported by Bosniak member of the BiH Presidency Haris Silajdzic who promised to help the forming of this memorial. Silajdzic added that Omarska and the entire Prijedor region is known for the "savagery committed", and described these crimes as genocide.
"Omarska is a monument to savagery, but in the same time resistance. I think this is genocide, because there was intent to remove the non-Serb population. We will fight with all forces to bring justice, but this process is slow", said Silajdzic.
Among the hundreds of gathered victims and their families was Zejna Besic, who lost 38 family members in Prijedor, and had several cousins killed in Omarska.
"I come each year to support this event and to honor those killed", she told Justice Report.
Mina Belic also lost members of her close family in Omarska, and she told Justice Report that she comes here for "justice and victims", and added she will continue to come.
Addressing the crowd, Fatima Fazlic repeated that all those responsible for crimes must be punished, and expressed her dissatisfaction with the recent releases of persons convicted for crimes in the Prijedor region.
From a total of 15 persons convicted for crimes in Prijedor in front of the Hague tribunal and Court of BiH, nine have been released after they served entire or part of their sentence.
In July this year, by a decision of the Tribunal's president, early release was granted to Dusko Sikirica, former security commander in the Keraterm camp, after serving two thirds of his 15–year sentence.
A month earlier former leader of one of the guard shifts in Keraterm camp Dusan Fustar was also released. Fustar had pleaded guilty to crimes in Prijedor before the Court of BiH and was sentenced to nine years in prison.
Predrag Banovic, a guard in Keraterm convicted to eight years in prison, Damir Dosen and Dragan Kolundzija, leaders of guard shifts in the same camp, sentenced to five and three years respectively, have also been released, as were Miroslav Kvocka, Dragoljub Prcac, Milojica Kos and Dusko Tadic, all found guilty of crimes committed in Omarska camp.
For killings, abuses and persecution of Bosniaks and Croats from the Prijedor region during 1992, the Hague tribunal also convicted Mladjo Radic to 20 years in prison, Zoran Zigic to 25, Milomir Stakic to 40 years imprisonment, while the Court of BiH sentenced Zeljko Mejakic to 21, Momcilo Gruban to seven and Dusko Knezevic to 31 years in prison.