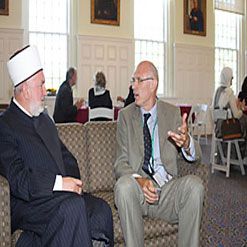 Top-tier religious leaders in the Muslim world are emerging as major proponents of dialogue with Christians and other world faiths. With two distinct initiatives this month, they are breaking new ground and sending signals to Muslims and others globally that interreligious understanding and joint action are Islamic values.
Those involved see the initiatives, if sustained, as breaking down misperceptions, strengthening mainstream religious voices on the world stage, and diminishing the influence of extremism.
This week, Yale University hosts the first of four meetings between prominent Muslim and Christian leaders from across the globe, with discussions rooted in foundational principles of the two faiths. The conference beginning Tuesday is the first fruit of "A Common Word between Us and You," the letter sent last fall by 138 Muslim leaders from 40 nations to the leaders of the world's Christian churches.
It follows a separate initiative, held earlier in July in Madrid, called by King Abdullah of Saudi Arabia, who surprised the world by urging 200 Muslims, Christians, Jews, and people of Eastern religions to gather together for purposes of dialogue and reconciliation. While some people expressed skepticism because of the Saudi kingdom's continued restrictions on other faiths, many conferees were encouraged.
"When the king says publicly that diversity is a sacred notion in Islam … that's a big deal," says Rabbi Brad Hirschfeld, president of the National Center for Jewish Learning and Leadership in New York, who attended the conference. "It's world-changing."
Genesis of 'Common Word'
The 29-page letter that Muslim clerics from the major sects sent to Christian churches said "the future of the world depends on peace between Muslims and Christians." It invited Christians to join with them on the basis of "what is common to us and most essential to our faith and practice: the Two Commandments" – love for God and love for one's neighbor.
"A Common Word represents a global Islamic consensus, and that means this engagement will have implications throughout the Muslim world," says Ibrahim Kalin, spokesman for the Muslim group and director of SETA Foundation for Political, Economic and Social Research in Ankara, Turkey.
The Christian response was positive, leading to planning for four conferences: Muslims with Protestant leaders in New Haven, Conn., this week; with Anglicans at Cambridge University in October; with Catholics at the Vatican in November; and finally, at Georgetown University in Washington next spring, where the social and political implications of the dialogues will come to the fore.
"Common Word has taken on an active life with a lot of potential impact … which should lead eventually to joint projects in several areas," says John Esposito, director of the Center for Muslim-Christian Understanding at Georgetown.
The dialogue begins with theological interaction at Yale. "We'll be discussing our core religious commitments, which are important because they define who we are," says Miroslav Volf, director of the Yale Center for Faith and Culture. That is a foundation for "addressing a wide range of very practical and very difficult issues."