By Zeynep S. Pasali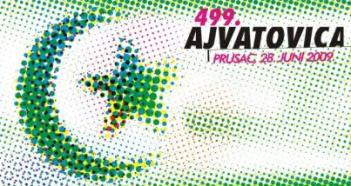 The Islamic symbols in Bosnia and Herzegovina are mainly those that have been accepted during the Ottoman period, which is particularly evident in the national (folklore) clothes of Bosniaks. The symbols also include: the color green, the crescent, calligraphy and Islamic art, Islamic architecture and its decorations."
(Lejla Silajdzic)
Among these symbols is a unique Bosnian Muslim tradition that stems from a legend from the Ottoman times. This week, Lastprophet.info presents the Ayvotovica Festival with its peculiar aspects…
Ajvatovica is the largest traditional, religious and cultural Islamic event in Europe; moreover, it is also the greatest surviving traditional, cultural and religious Bosnian Muslim festival. The beginning of the festival is marked by various religious, cultural and sport activities.
Ajvaz-dedo, for whom a spring and its surroundings have been named (Ajvatovica), was a devout Muslim who arrived in Prusac after the Ottomans had conquered Bosnian lands. Ajvaz-dedo was an enlightened man who worked tirelessly to educate the native people of his new homeland and who made great progress in so doing.
According to legend, Prusac had a water supply problem before the arrival of Ajvaz-dedo. However, Ajvaz-dedo discovered a mighty spring near the town. Unfortunately, the spring was closed off by a huge rock, measuring 74 m. long and 30 m. wide, and this hindered the construction of a running water system. Ajvaz-dedo prayed constantly for 40 days to Allah for the rock to be split. On the 4oth morning, following his prayers, he fell asleep and dreamed that two white rams had collided and split the rock in half. After he woke up, he saw that the rock had indeed split in half. Thus, the townspeople were able to construct a water system and water came to Prusac. Regarding this as a sign of a miracle and a blessing from Allah, people began going on pilgrimage to the place where the rock had split. 1
It is not known exactly when the first visit to Ajvatovica took place. However, the date of the first recorded pilgrimage is commonly taken as the official beginning of the celebration, but there is evidence that the festival itself is much older and rooted deeply in Bosnian tradition. The date of the festival is not connected to the Hijri calendar or with either of the two Muslim religious holidays.
Ajvatovica brings thousands of Bosnian men, women and children together; accompanied by some 200 men on horseback and dressed in traditional Bosniak folk costumes, they ascend a seven-kilometer path that leads to a site on Mount Ajvatovica; this has been a place that is sacred to Bosnian Muslims for over five centuries. Then, they walk up a hill and wave green Islamic flags with white crescents before stopping in a ravine. At the site, they chant 'Allahu Akbar' and perform prayer in congregation. 3
This year, the visit by Bosnian Muslims to Ajvatovica to honor Ajvaz-dedo and this miracle of Allah will continue a tradition that has lasted 499 years. Water continues to flow from this spring and Bosnian Muslims and even some Christians visit the place every year to thank Allah. Lastprophet.info