The International Institute for Middle-East and Balkan Studies (IFIMES) in Ljubljana, Slovenia, regularly analyses events in the Middle East and the Balkans. IFIMES has analysed current events in Montenegro in view of early parliamentary elections scheduled for 29 March 2009. The most interesting sections from the comprehensive analysis are given below.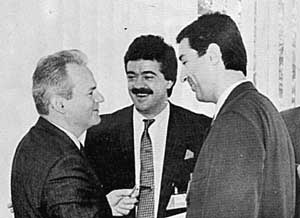 War crimes: Milosevic, Bulatovic and Djukanovic
Montenegro became an independent state when the Assembly of the Republic of Montenegro adopted the Declaration of Independence on 3 June 2006 based on the results of the referendum held on 21 May 2006. Prior to that Montenegro was a constituent republic of the State Union of Serbia and Montenegro. The referendum on independence was controversial in many aspects. Montenegrin citizens residing in Serbia were not allowed to vote while Montenegrins residing in any other state had that right. Irregularities in the realisation of the referendum were "given the blessing" from Slovak diplomats and EU high officials Miroslav Lajčák and FrantiÅ¡ek Lipka. As Javier Solana's "protege" Lajčák was awarded for the job he did in Montenegro with the position of high representative of the international community to Bosnia and Herzegovina – and proved to be the worst of all high representatives to Bosnia and Herzegovina. Lipka was also well awarded for his job in Montenegro, although he is still involved in "blackmailing" the Montenegrin civil society, forcing it to co-operate with him and to cover up with their activities his misuse of EU funds (privatisation).
Milo Đukanović's regime mobilised air carriers and other transportation companies to transport voters to the referendum venues, the cost of which was borne by the state, national black reserves and businessmen close to the ruling regime. Taking into account dubious circumstances under which the referendum was carried out, the difference of only a few thousand votes in favour of independence casts a dark shadow over Montenegro's independence.
PARLIAMENTARY ELECTIONS WITH 16 ELECTION LISTS
In Montenegro 498,285 citizens will have the right to vote at the forthcoming early parliamentary elections scheduled for 29 March 2009. They will have to choose from among 16 election lists:
● Coalition for European Montenegro – Milo Đukanović (DPS-Democratic Party of Socialists, SDP-Social Democratic Party, HGI-Croatian Civic Initiative and BS-Bosniak Party) ● Coalition for a Different Montenegro – Dr. Goran Batrićević (LP-Liberal Party and DC-Democratic Centre) ● People's coalition (NS-People's Party and DSS-Democratic Serbian Party) ● Serbian National List (SSR-Party of Serbian Radicals, SSN-Party of Serb People and Citizens Groups) ● Coalition for "Bosniaks and Muslims Together As One" (BDP-Bosniak Democratic Party and DZBM-Democratic Union of Bosniaks and Muslims) ● Albanian coalition of Democratic Union in Montenegro (Mehmet Bardhi) and Albanian Alternative (Gjerg Camaj) ● Albanian coalition "Perspektiva" ● New Serbian Democracy – Andrija Mandić ● Movement for Changes – "We can" – NebojÅ¡a Medojević ● Socialist People's Party – SrÄ'an Milić ● Democratic Union of Albanians – Ferhat Dinosha ● Montenegrin Communists ● Party of Pensioners and Persons with Disabilities in Montenegro ● Forca – Nazif Cungu ● Party of Democratic Prosperity ● Fatherland Serbian Party – dr. Aleksandar Stamatović – "For True Serbs"
For years, Prime Minister and DPS President Milo Đukanović has built his authority on DPS, a strong police apparatus and the National Security Agency (ANB) as the successor of the notorious State Security Service, as well as through the media loyal to his regime, especially national television and radio. Analysts have noted that under those circumstances Montenegrin citizens and even some high politicians (DPS) are being held hostages to Milo Đukanović's regime.
Numerous unresolved crimes were committed by the regime. On 27 February 1993 members of Serbian paramilitary troops under the command of Milan Lukić, who is in the Hague today (though not for this crime), and with the logistic assistance from the state of Serbia kidnapped a group of passengers from the Belgrade – Bar train no. 671. Today this crime against civilians (18 Bosniaks and one Croat) is almost forgotten. In Montenegro a court trial was held only against NebojÅ¡a Ranisavljević who was sentenced to 15 year imprisonment for war crimes against civilian population.
The regime was also responsible for the deportation of Bosnian refugees and ethnic cleansing in Bukovica, war crimes in Croatia and Bosnia and Herzegovina, cigarette smuggling, dubious privatisation and financial transactions as well as constructed accusations of terrorism made against 18 Albanians from Malesia, a part of Montenegro with the majority Albanian population.
There are other unresolved crimes, such as the assassination of DuÅ¡ko Jovanović, editor-in-chief of the opposition daily newspaper "Dan", who was murdered at the doorstep of his office more than four years ago, and the murder of police inspector Slavoljub Šćekić.
MILO ĐUKANOVIĆ – JUST ANOTHER MANIPULATING POLITICIAN
During the fateful period of 1988/89, the communist regime in Montenegro was replaced with Milo Đukanović's regime including Đukanović's political ally Momir Bulatović and his Democratic Party of Socialists (DPS). Thus, instead of replacing the totalitarian communist regime, a new totalitarian regime led by Milo Đukanović was formed – and it has remained in power for 20 years. Analysts have noted that during the period of Đukanović's regime Montenegro has not established real democracy but the so called "democratura", i.e. apparent democracy. The government which has uninterruptedly ruled Montenegro as a country in transition for 20 years can definitely not be regarded as democratic, although it may appear as such at first sight.
Opinions on Prime Minister Milo Đukanović differ. The opposition politician Slavko Perović believes that "Milo Đukanović is just another manipulating politician and a dedicated follower of Slobodan MiloÅ¡ević. Just like MiloÅ¡ević, he was and is interested only in power; he is a man of the past and an outdated politician".
Dr. Milan Popović, Professor at the Faculty of Law in Podgorica, described the change of power in 1988/89 with Milo Đukanović's regime as a very negative process: "Not only did they assume power in one of the most violent and negative overthrows in the history of Montenegro which took place in 1988/1989, but, what is more, they have managed to preserve this regime based on corruption and violence until today. Thus they only increase the possibilities for another violent and revolutionary change in power in Montenegro with uncertain or even negative results."
Dr. Milan Popović was summoned to the hearing on 27 February 2009 by the State Prosecutor General of Montenegro for having expressed his suspicion about the existence of organised crime among the highest representatives of government in Montenegro, which represents an open form of pressure on free intellectuals and citizens who are not loyal to the ruling regime. Moreover, during the election campaign the government exerted pressure on teachers and all those who are financed from the state budget, calling them to express their loyalty and vote for DPS at the forthcoming elections. Even non-government organisations in Montenegro are mostly controlled or influenced by the ruling structure.
Analysts point to the possibility of widespread protests against the current DPS government in Montenegro, not forgetting the fact that Milo Đukanović's regime was established on the street in a nondemocratical way and with a strong support from Slobodan MilioÅ¡ević. Street protests will probably determine also the destiny of Milo Đukanović's regime. Analysts do not exclude the possibility of politically motivated violence and liquidations.
MIREK TOPOLÁNEK MISUSES EU PRESIDENCY
The EU has become actively involved in Montenegro's election campaign, expressing support to DPS which has been the country's ruling structure for 20 years. This is also confirmed by the visits of high officials from Montenegro to Brussels and other European cities, such as the reception of Milo Đukanović by EU High Representative for foreign policy Javier Solana, EU Commissioner for Enlargement Olli Rehn and others. The visit of EU President and Czech Prime Minister Mirek Topolánek to Montenegro on 11 March 2009 represents the culmination of EU's bias in favour of Montenegrin present government during the country's election campaign. Topolánek has misused EU presidency to promote Milo Đukanović. Why did Topolánek of all the West Balkan states decide to visit Montenegro during the pre-election period?
The IFIMES International Institute considers it inappropriate for the March 2009 European Council to discuss Montenegro's application for the status of EU candidate country during the country's election campaign since that would represent its direct support to the DPS regime in Montenegro. IFIMES also considers it highly inappropriate for the highest European officials to receive the leaders of that regime in Brussels or visit Montenegro during the period of election campaign.
Analysts recommend that the EU should take measures in order to distance itself from Milo Đukanović's regime by reducing meetings with Montenegrin officials and rejecting visas to high representatives of the regime, while at the same time efforts should be made to achieve the liberalisation or abolishment of the visa regime for the citizens of Montenegro.
"PRVA BANKA" – OWNERSHIP OF THE ĐUKANOVIĆ FAMILY
"Prva banka" is a large commercial bank in Montenegro owned by the Đukanović family and their friends. Three months ago the bank received a three-month loan in the amount of EUR 44 million on the basis of a government decision. The aim of the intervention was to save "Prva banka" from bankruptcy. The bank encountered financial difficulties after it bought land at some elite locations at the coast and could not find the investor to finance the construction of buildings due to the financial and economic crisis.
According to the information received by IFIMES, Đukanović wants to sell "Prva Banka" to the state and thus perform a "selling-to-oneself" transaction.
(…)
VICTORY IS IMPOSSIBLE FOR THE OPPOSITION
The Montenegrin opposition did not unite in a political block before the elections in order to act as a strong opponent to the current regime, and it does not stand a chance to win the forthcoming elections. Nevertheless, it is important that the ruling coalition does not win more than a half of votes and that elections are carried out without the election fraud which was characteristic of all previous elections in Montenegro.